Warriors vs Mavericks Fantasy NBA: The Golden State Warriors will enter the game after beating the Kings behind a 37 points night by Stephen Curry. On the other, the Dallas Mavericks will hit the floor after losing to the Kings despite a 24 points night by Luka Doncic. More about GSW vs DAL Dream11 will be given here.
Warriors' season: Curry is the catalyst who drives this Warriors team, and despite having another record-breaking season, he sees his squad placed at 10th in the NBA Standings for Western Conference, however, with still a great chance to enter the NBA Playoffs since the NBA Pre-Playoff tournament is looming too. Kelly Oubre has been erratic but is finding confidence lately, while the rest of the roster plays well only in spurts, which has resulted in a struggling season, despite stellar and mind-boggling performances of Curry.
Mavericks' season: Dallas played poor basketball till February, but have improved their performances, as Kristaps Porzingis has stepped up his game. The team is overly reliant upon Doncic to provide them major scoring and playmaking, but lately, players off the bench have stepped up and made life easier for Luka. They are placed at the 6th in the NBA Standings for Western Conference and it is all because of their impressive play after the All-Star Break.
Host: Golden State Warriors
Visitors: Dallas Mavericks
Match Timing: 28 April, @ 07:00 AM
Venue: Chase Center
Streaming: WATCH Warriors vs Mavericks NBA Live on Sony channels including Sony TEN 1, Sony TEN 3 and Sony ESPN in India, and SonyLiv App.
NBA Projections and Analysis:
Golden State Warriors| Dallas Mavericks
Games: 61| 60
Wins: 31| 33
Defeats: 30 | 27
Warriors vs Mavericks, NBA News & Possible NBA Lineups
Golden State Warriors team News:
Status Out: James Wiseman and Klay Thompson will miss the season. Eric Paschall, Damion Lee, and Kent Bazemore will not play.
Status Questionable: No further trouble to report so far.
Golden State Warriors active roster: Stephen Curry, Kelly Oubre, Andrew Wiggins, Jordan Poole, Damion Lee, Mychal Mulder, Juan Toscano-Anderson, Kevon Looney, Draymond Green, Gary Payton, Axel Toupane, Nico Mannion, Dwayne Sutton, Khleb Wesson.
Dallas Mavericks team News:
Status Out: Josh Richardson, Kristaps Porzingis, JJ Redick, and Tyler Terry will not play in the game.
Status Questionable: Nothing further to report so far.
Dallas Mavericks active roster: Tim Hardaway, Dwight Powell, Luka Doncic, Maxi Kleber, Boban Marjanovic, Nicolo Melli, Jalen Brunson, Trey Burke, Willie Cauley Stein, Josh Green, Tyler Bey, Nate Hinton.
GSW vs DAL Dream11 NBA Scores, Fantasy Picks
Stephen Curry
PPG: 31.3
APG: 5.8
RPG: 5.6
SPG: 1.2
TPG: 3.4
Projected Fantasy Points: 57
The shooting demon now leads the League in PPG and has been simply unstoppable this month. Though the Chef Curry show has been in full flow, his personal achievements have not received the support he deserved, as the Warriors have crumbled down, again and again, this season. Despite this lack of support, Curry has helped the Warriors stay in the NBA Playoffs race, as he has averaged a breathtaking 38.1 PPG so far this month, stunning returns also include a record 85 3-pointers this month. There is no doubt that his accolades make a superb selection as the Super-Player in the Dream11 NBA play.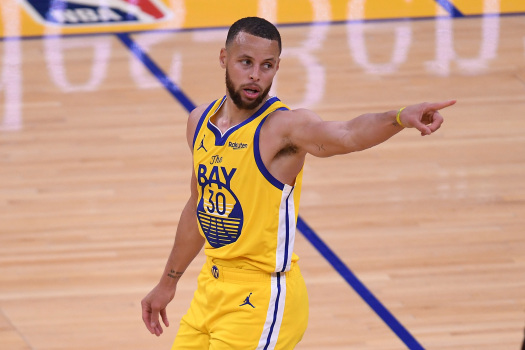 Luka Doncic
PPG: 28.5
APG: 8.8
RPG: 8.0
SPG: 1.0
TPG: 4.3
PFP: 51
Luka continues to be the shining example of success in this league despite limited team success. His team was reeling before the All-Star break but has become more proactive on both sides of the floor. Luka has produced another impressive season and surely looks like a future MVP piece. He is averaging 10.2 APG for the last 6 games.
Kelly Oubre Jr.
PPG: 15.5
RPG: 6.0
SPG: 1.0
TPG: 1.3
PFP: 37
Oubre's production has surely gone down since the last season, but he hasn't been terrible by any means. The oft-criticized player has actually done well after initial hiccups and has posted significant returns. He is averaging 17.0 PPG so far this month and will play a key role in turning Warriors to a Playoffs squad.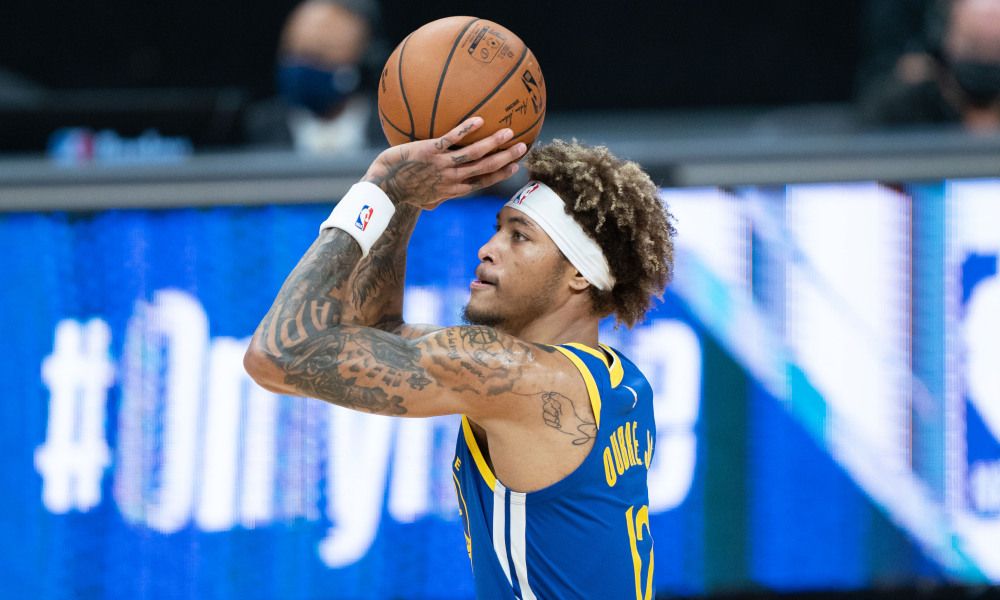 Andrew Wiggins
PPG: 18.0
RPG: 4.8
BPG: 1.0
SPG: 1.0
TPG: 1.8
PFP: 35
Evaluating Wiggins is always a challenge, while he has not hit the expectations laid upon him, he is a gifted scorer. But he has not had the experience of playing on a winning team despite joining talented players like Thompson and Curry. He is averaging 1.4 SPG for the last 5 games.
GSW vs DAL Dream11 Sleeper Picks
Tim Hardaway Jr.:  PPG: 15.5    RPG: 3.3      PFP: 23
Hardaway began the season as the starter but to bolster the bench strength, he is now playing as a sixth man, providing reliable scoring.
Draymond Green:  PPG: 6.6     APG: 8.8     RPG: 6.8    SPG: 1.6   TPG: 3.0
PFP: 38
Green has been an All-star in the League and performs the job of playmaking, rebounding, and defense to the Warriors. However, his scoring numbers should go at least near 10 PPG as the Warriors need some scoring. He is averaging an impressive 9.9 APG, 7.8 RPG, and 2.3 SPG so far this month.
Dorian Finney-Smith:  PPG: 9.6    RPG: 5.5    PFP: 24
Dorian is a terrific defender and provides decent offense and rebounding at the Forward spot. While he is not an enforcer at the offensive end, he has been impressive this month, with 12.5 PPG and 6.5 RPG so far.
Jalen Brunson:  PPG: 12.6    RPG: 3.6    APG: 3.5    TPG: 1.3 PFP: 25
Jordan Poole: PPG: 10.9    PFP: 19
PG: S Curry(SP), L Doncic(PP), J Poole
SG: N Hinton
SF: D Finney-Smith, K Oubre
PF: M Kleber
C:   D Powell