Lakers vs Knicks NBA Live: The Los Angeles Lakers will enter the contest after beating the Suns behind a 42 points outburst by Anthony Davis. On the other hand, the New York Knicks will come into the battle after beating the Clippers rallying around 25 points outburst by Derrick Rose. More information about LAL vs NYK Dream11 will be given here.
Lakers' season: Los Angeles' campaign derailed when LeBron James went out and they slipped from 3rd/4th spot to the 7th spot in the NBA Standings for the Western Conference. The team suffered further when Schroeder had to go out because of COVID-19 protocols but the return of Anthony Davis means that they will have some impetus going forward in the NBA Play-in tournament. Lakers are locked into play with the Warriors if the standings remain the same.
Knicks' season: Not many people would have expected the young team of New York Knicks to perform this well. Tom Thibodeau has made the Knicks number 1 defensive team in the league in terms of Points Allowed Per Game, with the oppositions restricted to 105 PPG. The Knicks are led for the most part by their bruising PF Julius Randle, have a host of guards, with the stellar Rose coming off the bench, and will be difficult to lock horns during the NBA Playoffs. They are in the 4th spot of the Eastern Conference standings.
Host: Los Angeles Lakers
Visitors: New York Knicks
Match Timing: 12 May @ 07:30 AM
Venue: Staples Center
Streaming: WATCH Lakers vs Knicks NBA Live on Sony channels including Sony TEN 1, Sony TEN 3 and Sony ESPN in India, and SonyLiv App
LAL vs NYK Dream11 Prediction for Basketball Match Today:
Los Angeles Lakers| New York Knicks
Games: 68 | 68
Wins: 38 | 38
Defeats: 30| 30
The Knicks are capable of shutting down the Lakers team which are already limited in terms of offensive options, however playing at home, the Lakers may have a slight advantage.
Lakers vs Knicks NBA News
Los Angeles Lakers News:
Status out: Dennis Schroeder, LeBron James, and Jared Dudley are ruled out for the fixture
Status Questionable: Talen-Horton Tucker, Kyle Kuzma, and Kentavious Caldwell-Pope are all 'probable' for the game.
Los Angeles Lakers active roster: Anthony Davis, Kyle Kuzma, Kentavious Caldwell-Pope, Devontae Cacok, Andre Drummond, Montrezl Harrell, Talen Horton-Tucker, Thanasis Antetokounmpo, Alex Caruso, Marc Gasol, Alfonzo McKinnie, Markieff Morris.
New York Knicks News:
Status Out: Mitchell Robinson and Luka Vildoza will not play in the fixture.
Status Questionable: Immanuel Quickley is "doubtful" and Alec Burks is "questionable" for the game.
New York Knicks active roster: Julius Randle, Immanuel Quickley, RJ Barrett, Kevin Knox II, Elfrid Payton, Nerlens Noel, Taj Gibson, Reggie Bullock, Austin Rivers, Derrick Rose, Alec Burks, Frank Ntilikina, Jared Harper, Theo Pinson, Obi Toppin, Norvel Pelle.
LAL vs NYK Dream11 Team| Player Stats
Anthony Davis
PPG: 21.9
RPG: 8.0
APG: 3.0
BPG: 1.8
SPG: 1.2
TPG: 2.1
Projected Fantasy Points: 52
The Brow will be expected to carry the major load with LeBron out and he is more than capable of dominating both ends of the floor. The Forward has missed a lot of games due to injury but has been back in action with full swing. He is averaging 23.8 PPG for the last 5 games and has put up 35+ points twice in a row, which makes him a superb pick as the Super-Player in the Dream11 NBA scenario.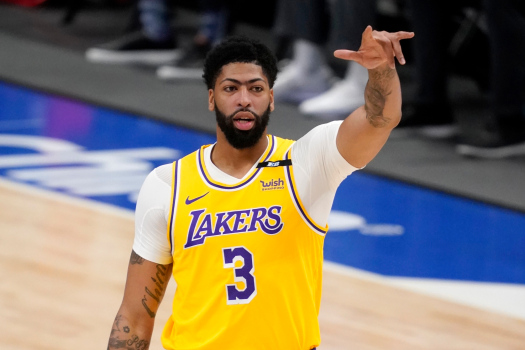 Julius Randle
PPG: 23.9
RPG: 10.3
APG: 5.9
TPG: 3.4
PFP: 46
Randle leads the Knicks in PPG, RPG, and APG, and since arriving to the glamorous city, he has become an outstanding player. The PF has become even more difficult to guard and his overall game has led Knicks to their current record.
RJ Barrett
PPG: 17.7
RPG: 5.8
APG: 3.0
TPG: 2.0
PFP: 37
The supremely talented guard is just 20 and the sky is the limit for this youngster, who can rack up points and defend at an elite rate. The young buck has been in prime form and has scored 20 points or more in 2 of the last 5 games.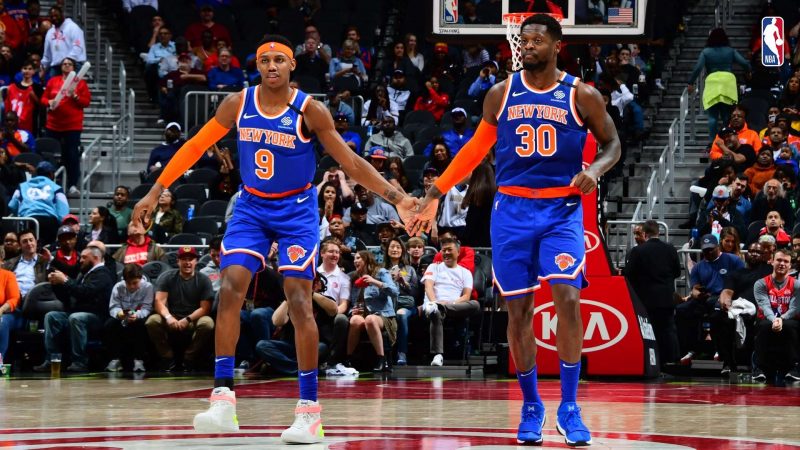 Kyle Kuzma:
PPG: 12.8
RPG: 6.2
TPG: 1.7
PFP: 29
Kuzma missed the Lakers' last game but when he plays, he is effective as a scorer and rebounder. Kyle may get 30+ minutes again with LeBron out but his own status is "probable".
Andre Drummond(Since joining Lakers):  PPG: 11.2     RPG: 9.3       SPG: 1.2 TPG: 2.2  PFP: 24
Drummond's tenure in the Lakers has been underwhelming so far and he has seen a reduction in his minutes. It appears it may take some time for him to get off the rust.
Derrick Rose(Since joining Knicks):  PPG: 14.8   APG: 4.2      TPG: 1.3
PFP: 36
Rose has been in superb touch off the bench for the Knicks and gives them immense depth at the PG spot. The former MVP has been impressive this month, averaging 21 PPG and crossing the 20 points threshold 3 times.
Kentavious Caldwell-Pope:   PPG: 9.5      PFP: 20
Reggie Bullock:   PPG: 10.9    RPG: 3.4      PFP: 18
Nerlens Noel:   PPG: 5.1     RPG: 6.4      BPG: 2.2     SPG: 1.1   TPG: 1.1
PFP: 20
LAL vs NYK Dream11 Prediction
PG: D Rose, A Caruso
SG: K Caldwell-Pope, R Barrett
SF: R Bullock
PF: N Noel, A Davis(SP)
C:  J Randle(PP)