Lakers vs Warriors NBA Live:  The Los Angeles Lakers finished at the 7th spot in the NBA Standings for the Western Conference, while the Golden State Warriors ranked 8th. The winner of this game will seal the right to contend in the NBA Playoffs and will see the Phoenix Suns in the first round. The loser will have to compete with the winner of the Grizzlies and Spurs match-up to fight for the last remaining spot in the Playoffs. More regarding LAL vs GSW Dream11 will be given here.
Lakers vs Warriors play-in: Lakers were the second-best defensive team in the league, allowing only 106.7 PPG and it was possible because of terrific perimeter defenders like KCP and Dennis Schroeder. While LeBron and Davis missed considerable time, the Warriors will fear that the full strength squad is back and they don't have that kind of depth themselves. The Warriors are overly reliant upon Curry, but do have decent scorers like Wiggins and Poole to chip in. Green will have the tough task of stopping Davis and Wiggins will have to seal off LeBron, the Warriors will have their hands full. The Lakers won the season series 2-1.
Host: Los Angeles Lakers
Visitors: Golden State Warriors
Match Timing: 20 May, @ 07:30 AM
Venue: Staples Center
Streaming: WATCH Lakers vs Warriors NBA Live on Sony channels including Sony TEN 1, Sony TEN 3 and Sony ESPN in India, and SonyLiv App.
Los Angeles Lakers| Golden State Warriors
Games: 72 | 72
Wins: 42 | 39
Defeats: 30| 33
Lakers vs Warriors NBA News
Los Angeles Lakers News:
Status out: No one has been ruled out for the fixture
Status Questionable: Nothing further to report so far.
Los Angeles Lakers active roster: LeBron James, Dennis Schroeder, Anthony Davis, Kyle Kuzma, Kentavious Caldwell-Pope, Andre Drummond, Montrezl Harrell, Talen Horton-Tucker, Thanasis Antetokounmpo, Jared Dudley, Alex Caruso, Marc Gasol, Alfonzo McKinnie, Markieff Morris, Devontae Cacok.
Golden State Warriors News:
Status Out: Damion Lee, Kelly Oubre, Klay Thompson and James Wiseman will not play in the game.
Status Questionable: Nothing further to report so far.
Golden State Warriors active roster: Stephen Curry, Andrew Wiggins, Jordan Poole, Draymond Green, Mychal Mulder, Kent Bazemore, Eric Paschall, Juan Toscano-Anderson, Kevon Looney, Alan Smailagic, Nico Mannion.
LAL vs GSW Dream11 Team| Player Stats
Stephen Curry
PPG: 32.0
APG: 5.8
RPG: 5.5
SPG: 1.2
TPG: 3.4
Projected Fantasy Points: 60
Curry was on fire all season long and led the league in PPG, lumping together 30+ and 40+ points game along the way. He is going to be guarded by Schroeder which means that he will have to work hard to generate the offense, however, he can score against the best defensive guards. Steph is averaging 38 PPG since April and has been the hottest player in the league. He is a superb pick as the Super-Player for the Dream11 NBA scenario.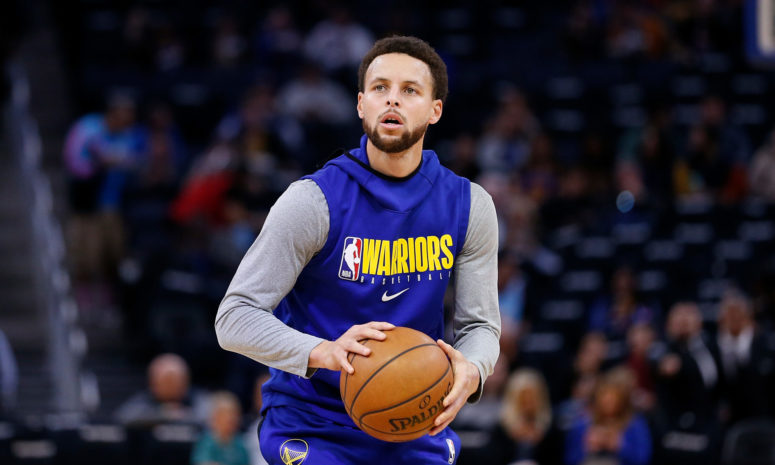 Anthony Davis
PPG: 21.8
RPG: 7.9
APG: 3.1
BPG: 1.6
SPG: 1.3
TPG: 2.1
PFP: 48
Davis will have to battle Green to generate offense but he can trump the matchup considering his skill-set. He will be needed to seal off the paint and perimeter at the defensive end and his abilities will be handy for the Lakers to beat the Warriors in this one-off matchup.
LeBron James
PPG: 25.0
APG: 7.8
RPG: 7.7
SPG: 1.1
TPG: 3.7
PFP: 46
LBJ needs no introduction and the King has been the best player since last decade or so and continues to sizzle. However, a serious injury means that his production can be affected a little, but his presence alone on the floor gives the Lakers a great chance to stave off the Warriors.
Andrew Wiggins
PPG: 18.6
RPG: 4.9
BPG: 1.0
TPG: 1.8
PFP: 37
Wiggins played in 71 games for the Warriors this year, which is the highest number for any of their player. He is the second option on offense and has multiple moves to accumulate points. He averaged 21.8 PPG and 6.2 RPG for the last 5 games.
Dennis Schroeder:  PPG: 15.4       APG: 5.8        RPG: 3.5      SPG: 1.1                 TPG: 2.7 PFP: 39
Dennis has both the offensive and defensive skills to be a more than handy complementary player on the loaded Lakers team, and he has unleashed his abilities in the most effective manner.
Jordan Poole:  PPG: 12.0    TPG: 1.0   PFP: 24
Poole has been a revelation for the Warriors and has given them a substantial scoring option at the guard spot. He is averaging an impressive 21.8 PPG for the last 5 games.
Andre Drummond(Since joining Lakers): PPG: 11.9     RPG: 10.2        SPG: 1.1
BPG: 1.0   TPG: 2.0   PFP: 34
Drummond has been underwhelming so far but has still managed to average a double-double since he has joined the team. He averaged 13.6 RPG and 1.4 BPG for the last 5 games.
Kentavious Caldwell-Pope:  PPG: 9.7   PFP: 16
Kent Bazemore:  PPG: 7.2     RPG: 3.4    SPG: 1.0   TPG: 1.2    PFP: 19
LAL vs GSW Dream11 Prediction
PG: D Schroeder, S Curry(SP), J Poole
SG: K Caldwell-Pope
SF: K Bazemore
PF: A Davis(PP), J Toscano-Anderson
C:   A Drummond