Lakers vs Rockets NBA Live: The Los Angeles Lakers will come into the game after winning an OT Thriller against the Knicks rallying around an outstanding 23 points outing by Kyle Kuzma. On the other hand, the Houston Rockets enter the battle after losing to the Trailblazers despite a 21 points outing by Kelly Olynyk. More regarding LAL vs HOU Dream11 will be related here.
Lakers' season: The reigning champions may end up playing the Warriors in the NBA Play-in tournament to qualify for the main leg of the NBA Playoffs, but if they do make it past the preliminary round then elite squads like Suns and Jazz can face a little bit of trouble. The Lakers dropped off the radar after the injury to LeBron, but have higher hopes with Davis back, and will be eagerly waiting for Dennis and LeBron to return as well. They are placed 7th in the NBA Standings for Western Conference.
Rockets' season: Rockets' injury list is larger than their active roster and it sums up their season. The team has the worst record in the Western Conference and after James Harden departed from the team, the likes of Wall and Gordon have been injured. They are signing players after players amidst the chaos created by injury and are in "tank mode" looking to land a top 3 pick in the NBA Draft. The team is right now just waiting for the season to finish but players like Olynyk have taken advantage of the situation by getting bigger roles and increased playing time.
Host: Los Angeles Lakers
Visitors: Houston Rockets
Match Timing: 13 May @ 08:00 AM
Venue: Staples Center
Streaming: WATCH Lakers vs Rockets NBA Live on Sony channels including Sony TEN 1, Sony TEN 3 and Sony ESPN in India, and SonyLiv App.
LAL vs HOU Dream11 Prediction for Basketball Match Today:
Los Angeles Lakers| Houston Rockets
Games: 69 | 69
Wins: 39 | 15
Defeats: 30| 54
The Lakers have an overwhelming advantage against the Rockets even if they miss their key players and it will not surprise many people if they beat them comfortably at their home floor and even with their second-string squad. Although the NBA or any other sport is always unpredictable, the Lakers are by far a better squad than the Rockets.
Lakers vs Rockets NBA News
Los Angeles Lakers News:
Status out: Dennis Schroeder and Jared Dudley are ruled out for the fixture.
Status Questionable: LeBron James, Anthony Davis, and Alex Caruso are all "Game Time Decisions".
Los Angeles Lakers active roster: Anthony Davis, Kyle Kuzma, Kentavious Caldwell-Pope, Devontae Cacok, Andre Drummond, Montrezl Harrell, Talen Horton-Tucker, Thanasis Antetokounmpo, Alex Caruso, Marc Gasol, Alfonzo McKinnie, Markieff Morris.
Houston Rockets News:
Status Out: Eric Gordon, Sterling Brown, Kevin Porter Jr., DJ Wilson, Avery Bradley, David Nwaba, John Wall, and Dante Exum will not play in the game.
Status Questionable: Christian Wood, DeQuan Jeffries, and Danuel House Jr. are all "questionable" for the game.
Houston Rockets active roster: DJ Augustin, Jae'Sean Tate, Kelly Olynyk, Armoni Brooks, Dequan Jeffries, Khyri Thomas, Chris Clemons, Danuel House, Kenyon Martin Jr., Cameron Oliver, Mason Jones, Anthony Lamb.
LAL vs HOU Dream11 Team| Player Stats
Anthony Davis
PPG: 21.9
RPG: 8.0
APG: 3.1
BPG: 1.7
SPG: 1.2
TPG: 2.1
Projected Fantasy Points: 46
The Forward has missed a lot of games due to injury but has been back in action with full swing. Although his groin is still hurting and he may sit out the game, if he plays then he will be a nightmare for the short-handed Rockets to deal with. He is averaging 25.4 PPG for the last 5 games and can be chosen as the Super-Player in the Dream11 NBA play.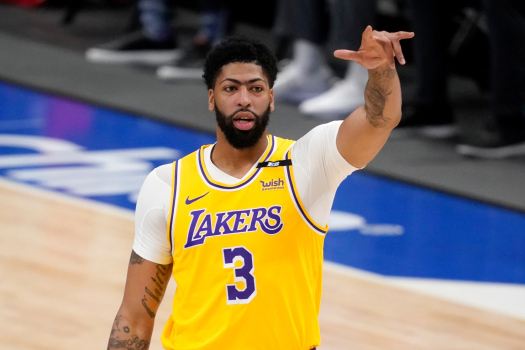 Kelly Olynyk(Since joining Rockets)
PPG: 18.9
RPG: 8.6
APG: 3.7
SPG: 1.4
TPG: 2.5
PFP: 49
Kelly was shipped to the Rockets in a mid-season trade and has been a major option on offense for a depleted and inexperienced squad. The veteran Forward has been in stellar form and has been averaging 22 PPG, 10.2 RPG, 7 APG, and 2 SPG for the last 4 games.
Khyri Thomas
PPG: 20.3
RPG: 4.0
APG: 3.0
SPG: 2.7
BPG: 1.0
TPG: 1.0
PFP: 39
Khyri is taking advantage of the open roster spot, allowing him to play a lot of minutes, and has lodged some incredibly impressive performances in the three games he has played for the Rockets so far. It remains to be seen how far he can manage to perform like this.
Andre Drummond(Since joining Lakers):
PPG: 11.4
RPG: 9.8
SPG: 1.2
TPG: 2.1
PFP: 34
Drummond has underwhelmed the Lakers fans but he has been able to lodge strong rebounding games despite a punctured offensive output. It is a matter of time it seems before the veteran Center gets his legs back and provides them a lot of substance.
Kyle Kuzma:  PPG: 12.9    RPG: 6.2    TPG: 1.7   PFP: 29
Kuzma did a great job with either LeBron or Davis out when he saw increased floor time but may again see a reduction in his minutes if both the Forwards play together. He is averaging 16.4 PPG for the last 5 games, scoring 20 points or more 3 times in the window.
Jae'Sean Tate:  PPG: 11.2    RPG: 5.4    SPG: 1.3   PFP: 22
Tate has carved out substantial minutes with the Rockets and has been their only constant player. He is averaging 6.4 RPG and 5 APG for the last 5 games.
Kentavious Caldwell-Pope:  PPG: 9.7    PFP: 28
The guard has picked up his game recently and with more opportunities to score, has turned up the heat. He is averaging 11.6 PPG, 3.6 APG, and 1 BPG for the last 5 games.
Talen Horton Tucker:  PPG: 8.7    TPG: 1.5   PFP: 20
DJ Augustin(Since joining Rockets):  PPG: 10.1     APG: 3.8
TPG: 1.6   PFP: 24
Armoni Brooks:  PPG: 9.8    RPG: 3.2    TPG: 1.2   PFP: 17
PG: D Augustin
SG: K Caldwell-Pope, K Thomas
SF: T Horton-Tucker
PF: A Davis(SP), J Tate
C:  A Drummond, K Olynyk(PP)
(If Davis does not play and LeBron plays then swap for James(at SF) and choose him as SP)