Mavericks vs Lakers Fantasy NBA: Dallas Mavericks will come into the contest after beating the contest behind a near-triple double 30 points effort by Luka Doncic. On the other hand, the Los Angeles Lakers will enter the game after losing to the Jazz despite a 24 points night by Talen Horton-Tucker. More information about DAL vs LAL Dream11 will be given here.
Mavericks' season: Dallas has become a better team after the All-Star Break and they didn't have to make major changes to get here. However, despite having two juggernauts in Doncic and Porzingis, the team has some holes and undergoes lapses at the defensive end. All said and done, the Mavericks are located at the 7th in the NBA Standings for Western Conference and need one last push to enter the Playoffs in the shortened season.
Lakers' season: Los Angeles Lakers have been affected because of injuries and have slipped a couple of spots since March with no LeBron and AD. The team counts upon Schroeder, Kuzma, Tucker, and Caldwell to distribute the load, and the addition of Andre Drummond makes them more competitive. However, Andre is having trouble adjusting to the League after sitting out for multiple months, and right now, he is rusty. The Lakers may get Anthony Davis back for this game which will certainly give them more chances at winning.
Host: Dallas Mavericks
Visitors: Los Angeles Lakers
Match Timing: 23 April, @ 07:00 AM
Venue: American Airlines Arena
Streaming: WATCH Mavericks vs Lakers NBA Live on Sony channels including Sony TEN 1, Sony TEN 3 and Sony ESPN in India, and SonyLiv App.
NBA Projections and Analysis:
Dallas Mavericks| Los Angeles Lakers
Games: 57 | 58
Wins: 31| 35
Defeats: 26 | 23
Mavericks vs Lakers, NBA News & Possible NBA Lineups
Dallas Mavericks team News:
Status Out: Tyrell Terry will not play in the game.
Status Questionable: Maxi Kleber is a 'Game-Time Decision'.
Dallas Mavericks active roster: Tim Hardaway, Dwight Powell, Luka Doncic, Maxi Kleber, Kristaps Porzingis, Josh Richardson, Boban Marjanovic, Jalen Brunson, JJ Redick, Trey Burke, Willie Cauley Stein, Josh Green, Tyler Bey, Nate Hinton.
Los Angeles Lakers team News:
Status out: LeBron James and Jared Dudley are ruled out for the fixture
Status Questionable: Anthony Davis is aiming for this game to make a return. Dennis Schroeder and Markiff Morris are "Game-Time Decisions".
Los Angeles Lakers active roster: Dennis Schroeder, Anthony Davis, Kyle Kuzma, Kentavious Caldwell-Pope, Devontae Cacok, Andre Drummond, Montrezl Harrell, Talen Horton-Tucker, Thanasis Antetokounmpo, Alex Caruso, Marc Gasol, Wesley Mathews, Alfonzo McKinnie, Markieff Morris.
DAL vs LAL Dream11 NBA Scores, Fantasy Picks
Luka Doncic
PPG: 28.6
APG: 8.7
RPG: 7.9
SPG: 1.0
TPG: 4.3
Projected Fantasy Points: 51
Luka continues to be the shining example of success in this league despite limited team success. His team was reeling before the All-Star break but has become more proactive on both sides of the floor. Luka has produced another impressive season and surely looks like a future MVP piece. The Guard has scored 30 or more in 3 out of the last 5 games. He is the ideal selection as the Super-Player in the Dream11 NBA scenario.
Dennis Schroeder:
PPG: 15.4
APG: 5.5
RPG: 3.5
SPG: 1.2
TPG: 2.8
PFP: 39
Schroeder has been consistent in terms of assists and points ever since he has been given major duties at the Guard level, with their ball-handler LeBron out with an injury. He has given the Lakers some sense of stability amidst the flood of injuries and has averaged 7.6 APG since the month began.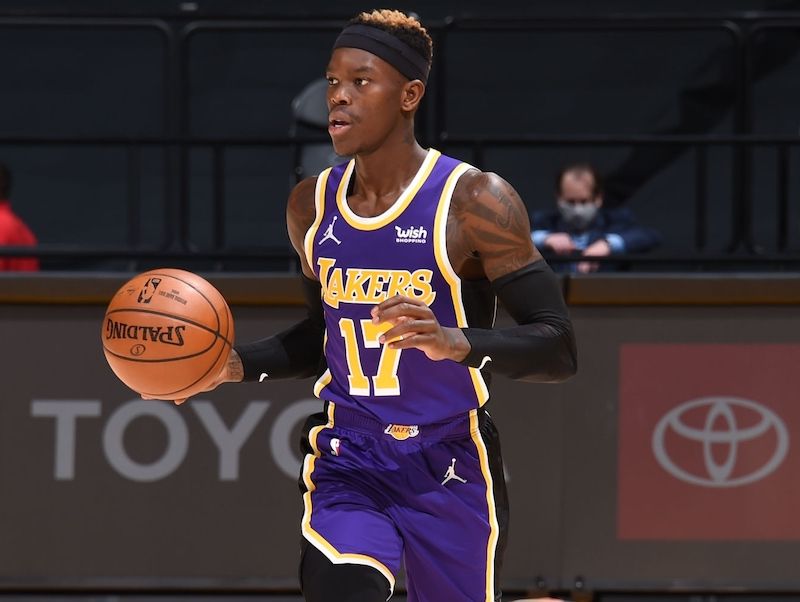 Kristaps Porzingis
PPG: 20.5
RPG: 9.4
BPG: 1.5
TPG: 1.4
PFP: 42
Porzingis has been instrumental in the improved performance of the Mavericks. The big man who can shoot, finish in the paint, and rebound well, provides a lot of offense to his team and is an essential part of the roster. He is averaging 11.6 RPG for this month so far.
Kyle Kuzma:
PPG: 12.9
RPG: 6.5
TPG: 1.7
PFP: 29
Since March, Kyle has averaged close to 16 PPG and has made most of his minutes. Kuzma's minutes reduced with the arrival of Anthony Davis a couple of years back, however, there was a slight reduction in his usage this season, but then turned up some substantial returns when he was asked to start at the Forward.
DAL vs LAL Dream11 Sleeper Picks
Andre Drummond(Since joining Lakers):  PPG: 11.6     RPG: 8.9     SPG: 1.6 TPG: 2.7   PFP: 33
Drummond has been a little underwhelming but that would be harsh to say as he hasn't played for months before joining the Lakers. The Center will get it together it seems once he has adjusted to the game and his new team.
Tim Hardaway Jr.:  PPG: 15.8     RPG: 3.3    PFP: 20
Hardaway began the season as the starter but to bolster the bench strength, he is now playing in the role of a sixth man, providing reliable scoring.
Talen Horton-Tucker:  PPG: 9.0    SPG: 1.0   TPG: 1.5   PFP: 22
Talen broke onto the scene after an imperious Summer League campaign and has brought a lot of offensive capabilities when his name has been called off the bench. The 20-year old has been having April as his best month, averaging 14.3 PPG and 1.9 SPG so far.
Jalen Brunson:   PPG: 12.8     RPG: 3.6      APG: 3.4      TPG: 1.3       PFP: 25
Kentavious Caldwell-Pope: PPG: 9.3    TPG:1.0   PFP: 19
Dorian Finney-Smith:  PPG: 9.3     RPG: 5.6      PFP: 18
PG: D Schroeder, L Doncic(SP)
SG: K Caldwell-Pope
SF: T Horton-Tucker
PF: M Morris
C:   D Powell, A Drummond, K Porzingis(PP)