Trailblazers vs Nuggets Fantasy NBA: The Portland Trailblazers will enter the game after losing a close game against the Clippers despite a 28 points night by C.J. McCollum. On the other hand, the Denver Nuggets will come in the game after beating the Grizzlies in a heated OT contest, where Nikola Jokic had another monster night with 47 points and 15 rebounds. More information about POR vs DEN Dream11 will be provided here.
Trailblazers' season: Portland has been better this season than the 2019-20 season, but they still lack the roster make-up to compete against the top four squads in the NBA Western Conference. They are 6th in the NBA Standings for the Western Conference and are looking to gain some momentum after integrating Norman Powell after the trade in exchange for Gary Trent. Trailblazers have gotten decent contributions from Carmelo, who is shining in his role as a backup Forward.
Nuggets' season: Denver has played some terrific basketball since March mostly because Nikola Jokic, their ace is now getting assistance from young Michael Porter Jr. and Jamal Murray. Nuggets look in terrific form and have a strong defensive and unit from Guard to Center spot. They acquired Aaron Gordon during the trade deadline and bolstered their Forward position. However, since Murray will be out with an injury, the burden will shift to players like Morris, Campazzo, and Barton at the guard position. They are in the 4th spot in the Western Conference Standings
Host: Portland Trailblazers
Visitors: Denver Nuggets
Match Timing: 22 April, @ 07:30 AM
Venue: Moda Center
Streaming: WATCH Trailblazers vs Nuggets NBA Live on Sony channels including Sony TEN 1, Sony TEN 3 and Sony ESPN in India, and SonyLiv App.
NBA Projections and Analysis:
Portland Trailblazers| Denver Nuggets
Games: 57 | 57
Wins: 32| 37
Defeats: 25 | 20
Trailblazers vs Nuggets, NBA Team News 
& Possible NBA Lineups
:
Portland Trailblazers team News:
Status Out: Zach Collins will not play in the game.
Status Questionable: Jusuf Nurkic and Damian Lillard are "Game Time Decisions".
Portland Trailblazers active Roster: Carmelo Anthony, Derrick Jones Jr., Norman Powell, CJ McCollum, Harry Giles III, Robert Covington, Enes Kanter, Anfernee Simmons, CJ Elleby, Keljin Blevins.
Denver Nuggets team News:
Status Out: Monte Morris and Jamal Murray will not play in the game.
Status Questionable: Nothing further to report on the injury front.
Denver Nuggets active roster: Will Barton, Nikola Jokic, Facundo Campazzo, Aaron Gordon,  Michael Porter Jr., JaVale McGee, Paul Millsap, Greg Whittington, Austin Rivers, Gary Clarke, Shaquille Harrison, Markus Howard, Zeke Nnaji, Vlatko Cancar, JaMychal Green, Bol Bol.
POR vs DEN Dream11 NBA Scores, Fantasy Picks
Nikola Jokic
PPG: 26.4
RPG: 11.1
APG: 8.8
SPG: 1.4
TPG: 3.1
PFP(Projected Fantasy Points): 50
Jokic has revolutionized the Center position and his all-around chops have enabled him to lead Nuggets in PPG, RPG, APG, and SPG. Since the Nuggets have stepped up their game, Nikola has been able to relax but with Murray out, he will only get more touches. Jokic is an excellent pick-up as the Super Player in the Dream11 NBA scenario.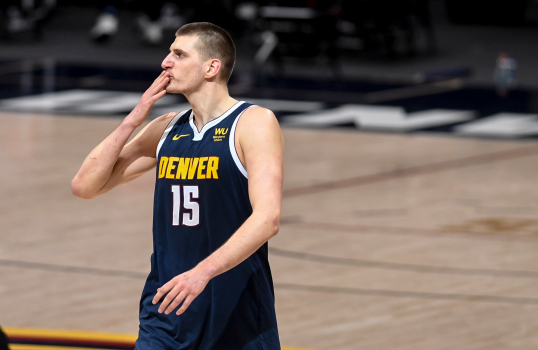 CJ McCollum
PPG: 23.4
APG: 4.7
RPG: 3.9
SPG: 1.1
TPG: 1.3
PFP: 45
CJ has been in full flow after recovering from injury and has made sure that he is a constant contributor at the offensive end. The guard can handle the ball well and has many moves to score both inside and outside. He is averaging 1.2 SPG and has also notched five 20+ points 3 times in a row.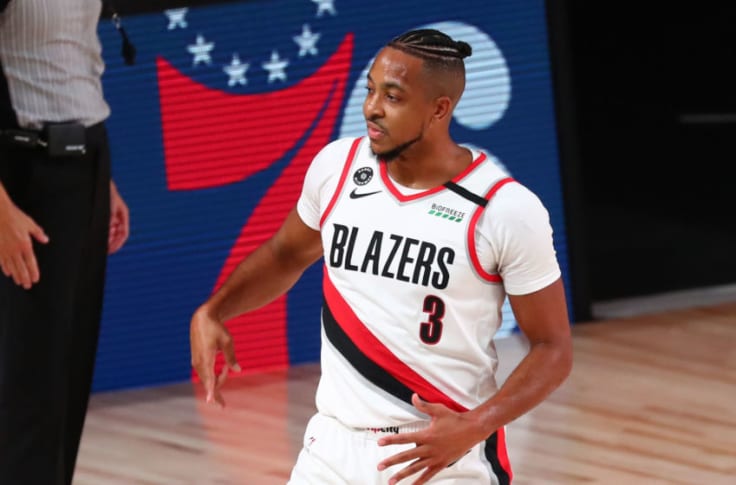 Michael Porter Jr.:
PPG: 17.7
RPG: 7.7
TPG: 1.1
PFP: 40
Porter has had a fairytale season after struggling with injuries in his young career. The 22-year-old looks like a future star and his skills have helped Nuggets become a tough team. His rebounding and scoring have been red-hot this month, with an average of 21.8 PPG and 8.5 RPG.
Norman Powell(since joining Trailblazers):
PPG: 17.2
RPG: 3.3
SPG: 1.6
TPG: 1.8
PFP: 36
Powell's addition adds spice to the SF position for Portland, however, it will take him some to get integrated into his new role. Norman can form a formidable trio with Lillard and McCollum, however, as the season is closing, he will have to step up his game. He has scored 20+ points 4 times this month.
POR vs DEN Dream11 Sleeper Picks
Will Barton:  PPG: 12.9     RPG: 4.1    APG: 3.3    TPG: 1.7   PFP: 26
While he can't create offense off the dribble like Murray, Barton is able to play very well off the bell and uses his athleticism to influence the game. He is also a sturdy defensive player who is a boon for this squad and a recipe for their success. He is averaging 15.7 PPG and 1.1 SPG so far this month.
Enes Kanter: PPG: 12.0   RPG: 11.8    TPG: 1.2   PFP: 27
Kanter has been a stabilizer both as the starter and off the bench. His scoring and rebounding allow him to carve out some time at the Center spot.
Carmelo Anthony: PPG: 13.5     RPG: 3.2   TPG: 1.0     PFP: 27
Melo has been a great offensive player off the bench for Portland and has proven that he still has some game left. The former scoring champion is averaging 20 PPG for the last 4 games.
Aaron Gordon(Since joining Nuggets):  PPG: 10.7     RPG: 4.8    TPG: 1.2
PFP: 24
PJ Dozier: PPG: 7.1   RPG: 3.6    PFP: 16
PG: N Powell
SG: W Barton, C McCollum(PP), A Simmons
SF: C Anthony, M Porter Jr.
PF: A Gordon
C: N Jokic(SP)