Yuvraj SIngh's "Well Done Youngsters" Post After India Legends' Final Win Goes Viral, Twitteratti Respond
India Legends: The Hero inside you never die. It's hard to unlearn something you have learned throughout your life, and impossible to forget a trait you carved out in you with your hard work and dedication.
And we all know everything about the likes of Sachin Tendulkar, Virender Sehwag and Yuvraj Singh, to name a few of the cricket players who were part of the India Legends roster in the recently-concluded Road Safety World Series, that how good they all were during their prime, and how they dominated the game of cricket we all so much love.
They are forever youngsters whenever they take the field either to be competitive again or for some cause.
India Legends: Yuvraj Singh's "Well Done Youngsters" Post After India Legends' Final Win Goes Viral, Twitteratti Responds
India Legends batted first in the all-important Road Saftey World Series final match and posted a daunting 181/4 total against Sri Lanka.
Virender Sehwag was out early while Sachin Tendulkar lasted only 23 balls, but Yuvraj Singh and Yusuf Pathan took care of batting with both erupting for half-centuries. It looked like we are witnessing their prime again when the duo used to hit the very best bowlers out of the park.
Yuvraj and Yusuf both combined for a total of 122 runs and nine massive sixes. Yusuf also picked up two wickets in the 2nd inning to end the game with the deserving man-of-the-match performance.
Yuvraj took to social media right after the win and shares a group picture of the team. He captioned the selfie, "Well done youngsters !!! congratulations."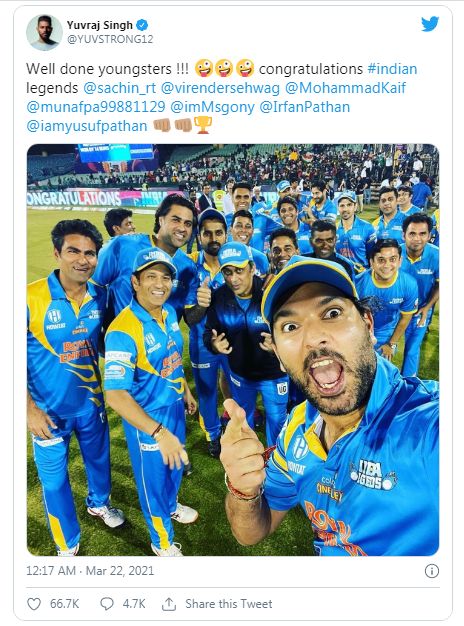 Fans can never get enough of the India legends. For them, they are forever young.
"Young Brigade," one of the fans responded to Yuvraj's tweet.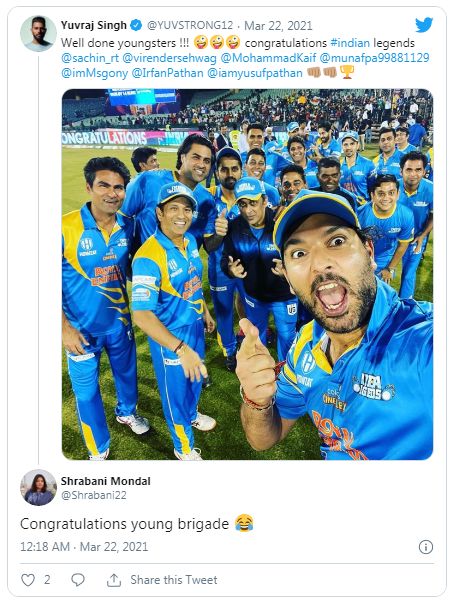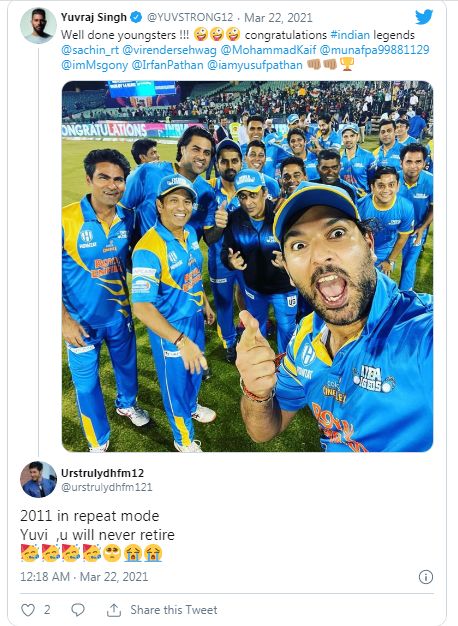 One fan drew Yuvraj Singh's incredible performance in the final with his 2011 World Cup exploits.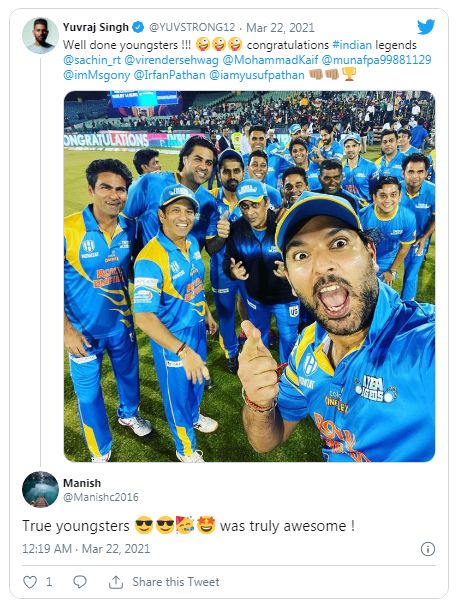 India Legends: Yuvraj Bats For "Access To Clean Water For All"
Yuvraj Singh is raising awareness about the importance of saving water. Soon after the India Legends win in the Road Safety World Series final against Sri Lanka, the former India all-rounder posted on his social media that not everybody is luck to have access to clean water and we should all do our bits to save water.