Kings vs Mavericks Fantasy NBA: The Sacramento Kings will enter the game after losing to the Warriors despite a 25 points performance by Buddy Hield. On the other hand, the Dallas Mavericks will come into the contest after beating the Lakers rallying around a 25 points night by Dwight Powell. More information about SAC vs DAL Dream11 will be given here.
Kings' season: Sacramento has been in rebuilding mode for more than 15 years and they have a tendency to waste talents, as in the case of Tyreke Evans and DeMarcus Cousins. It remains to be seen how DeAaron Fox will find his place with this Franchise, and even though Kings do have promising players like Hield, Bagley, and Holmes, they are nowhere competitive enough to make it to the NBA Playoffs yet, and it may take some years before they go to that territory.
Mavericks' season: Dallas played poor basketball till February, but have improved their performances, as Kristaps Porzingis has stepped up his game. The team is overly reliant upon Doncic to provide them major scoring and playmaking, but lately, players off the bench have stepped up and made life easier for Luka. They are placed at the 6th in the NBA Standings for Western Conference and it is all because of their impressive play after the All-Star Break.
Host: Sacramento Kings
Visitors: Dallas Mavericks
Match Timing: 27 April @ 07:30 AM
Venue: Golden 1 Center
Streaming: WATCH Kings vs Mavericks NBA Live on Sony channels including Sony TEN 1, Sony TEN 3 and Sony ESPN in India, and SonyLiv App
NBA Projections and Analysis:
Sacramento Kings| Dallas Mavericks
Games: 60| 59
Wins: 24 | 33
Defeats: 36 | 26
Kings vs Mavericks, NBA News & Possible NBA Lineups
Sacramento Kings team News:
Status Out: DeAaron Fox, Robert Woodward III, and Marvin Bagley will not play in the game.
Status Questionable: Nothing further to report so far.
Sacramento Kings active roster: Buddy Hield, Richuan Holmes, Harrison Barnes, Kyle Guy, Delon Wright, Chris Silva, Hassan Whiteside, Daquan Jeffries, Jahmius Ramsey , Tyrese Haliburton, Terrence Davis, Delon Wright, Justin James, Glenn Robinson III.
Dallas Mavericks team News:
Status Out: Tyrell Terry will not play in the game.
Status Questionable: Luka Doncic, Kristaps Porzingis, and Josh Richardson are "Game Time Decisions".
Dallas Mavericks active roster: Tim Hardaway, Dwight Powell, Luka Doncic, Maxi Kleber, Kristaps Porzingis, Josh Richardson, Boban Marjanovic, Jalen Brunson, JJ Redick, Maxi Kleber, Trey Burke, Willie Cauley Stein, Josh Green, Tyler Bey, Nate Hinton.
SAC vs DAL Dream11 NBA Scores, Fantasy Picks
Luka Doncic
PPG: 28.5
APG: 8.8
RPG: 8.0
SPG: 1.0
TPG: 4.3
Projected Fantasy Points: 51
Luka continues to be the shining example of success in this league despite limited team success. His team was reeling before the All-Star break but has become more proactive on both sides of the floor. Luka has produced another impressive season and surely looks like a future NBA MVP piece. He is averaging 10.6 APG for the last 5 games. Although, he is questionable if he plays he is a great selection as the Super-Player in the Dream11 NBA scenario.
Buddy Hield:
PPG: 16.6
RPG: 4.5
APG: 3.1
TPG: 1.7
PFP: 35
Buddy is a great shooter and offensive option at the two-guard spot and is 2nd among the Sacramento players in terms of scoring. While he has the tendency to shoot poorly at times, he keeps his defender busy and running. He is averaging 18.2 PPG for the last 5 games.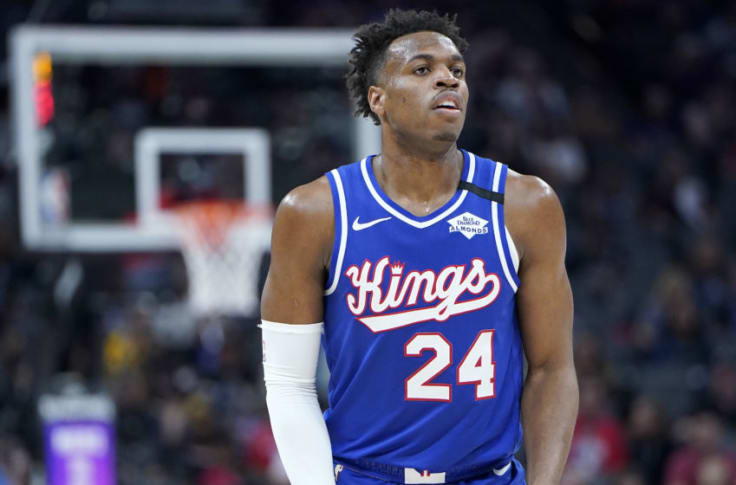 Richuan Holmes
PPG: 14.1
RPG: 8.9
BPG: 1.6
TPG: 1.2
PFP: 37
Holmes has had a breakout season and he has been in superb form since the year began. Richuan provides terrific scoring and rebounding, while also being an above-average shot blocker. Injuries have affected him a bit which has resulted in his production being down this month.
Kristaps Porzingis
PPG: 20.4
RPG: 9.3
BPG: 1.5
TPG: 1.3
PFP: 39
Porzingis has been instrumental in the improved performance of the Mavericks. The big man who can shoot, finish in the paint, and rebound well, provides a lot of offense to his team and is an essential part of the roster. He is questionable for the game.
SAC vs DAL Dream11 Sleeper Picks
Harrison Barnes:  PPG: 15.9    RPG: 6.6     APG: 3.5      TPG: 1.6       PFP: 33
Barnes has been a reliant scorer at the Forward position and he is also a great rebounder while being a decent passer. Barnes' numbers have been down prior to previous years and that has affected his team's performances too.
Tim Hardaway Jr.:  PPG: 15.5    RPG: 3.3    PFP: 23
Hardaway began the season as the starter but to bolster the bench strength, he is now playing in the capacity of a sixth man, providing reliable scoring.
Tyrese Haliburton:   PPG: 12.6    APG: 5.1    RPG: 3.0      SPG: 1.3   TPG: 1.5
PFP: 30
The talented rookie guard looks like a piece for the future and despite inconsistencies, he has shown that he is a reliable PG. He is averaging 7.7 APG for the last 3 games.
Hassan Whiteside:  PPG: 8.1    RPG: 6.0    BPG: 1.3   TPG: 1.1   PFP: 19
Jalen Brunson: PPG:  12.6     RPG: 3.6     APG: 3.5  TPG: 1.3 PFP: 25
PG: T Haliburton
SG: B Hield(SP)
SF: D Finney-Smith, H Barnes
PF: M Kleber, T Hardaway, R Holmes(PP)
C:   D Powell