OKC vs NYK Dream11 Team Prediction NBA Projections, Fantasy Basketball Picks for Thunder vs Knicks 14 March
Thunder vs Knicks Fantasy NBA: Oklahoma City Thunder will enter the contest after taking care of business against the Dallas Mavericks behind a 32 points outburst by Shai Gilgeous-Alexander. On the other hand, the New York Knicks take the floor after a blowout loss against the Milwaukee Bucks despite a 22 points night by RJ Barrett. More information about OKC vs NYK Dream11 fixture will be related here.
Thunder's season: Oklahoma City has been in rebuilding mode but they have challenged even the elite teams because of their discipline. Shai Gilgeous has carried the team like an All-star talent and the Thunder have identified a rising player in Hamidou Diallo. The Thunder are doing well and can still make a Playoffs push
Knicks' season: The Knicks also have a young roster but Julius Randle's performances have developed them into a formidable squad because of which they are at the 7th spot in the NBA standings for the Eastern Conference. Knicks remain in the Playoffs bracket but the season is still long and they will have to build some momentum.
Host: Oklahoma City Thunder
Visitors: New York Knicks
Match Timing: 14 March @ 12:30 AM
Venue: Chesapeake Energy Arena
Streaming: WATCH Thunder vs Knicks NBA Live on Sony channels including Sony TEN 1, Sony TEN 3 and Sony ESPN in India, and SonyLiv App.
NBA Projections and Analysis:
Oklahoma City Thunder| New York Knicks
Games: 37 | 38
Wins: 16| 19
Defeats: 21| 19
Thunder vs Knicks, NBA News & Possible NBA Lineups
Oklahoma City Thunder team News:
Status out: Trevor Ariza, Shai Gilgeous-Alexander, Darius Bazley, and George Hill will not play in the game.
Status Questionable: No further issues for the Thunder.
Oklahoma City Thunder active roster: Justin Jackson, Lugentz Dort, Moses Brown, Al Horford, Isaiah Robey, Hamidou Diallo, Mike Muscala, Theo Maledon, Aleksej Pokusevski, Kenrich Williams, Josh Hall, Darius Miller.
New York Knicks team News:
Status Out: Austin Rivers, Mitchell Robinson, and Derrick Rose will not play in the fixture against the Thunder.
Status Questionable: Immanuel Quickley and Elfrid Payton are questionable for the game against the Thunder.
New York Knicks active roster: Julius Randle, Immanuel Quickley, RJ Barrett, Alec Burks, Kevin Knox II, Elfrid Payton, Dennis Smith Jr., Nerlens Noel, Taj Gibson, Reggie Bullock, Frank Ntilikina, Jared Harper, Theo Pinson, Austin Rivers, Obi Toppin, Ignas Bradzeikis.
OKC vs NYK Dream11 NBA Scores, Fantasy Picks:
Julius Randle
PPG: 22.8
RPG: 11.0
APG: 5.6
TPG: 3.3
Projected Fantasy Points: 47
Julius Randle performs multiple roles for the Knicks and surely is having an all-star type of season. He leads the Knicks in PPG, RPG, and APG showcasing how much the Knicks depend upon him to keep their engines going. The Forward is the heart and soul of the Knicks and it also makes him a great selection as the Super-Player in the Dream11 NBA Fantasy scenario.
RJ Barrett
PPG: 16.7
RPG: 5.9
TPG: 1.9
PFP: 30
RJ is a superb talent at the age of 20 and has a long time to hone up his skills. He has been stellar at the professional level and has shown that he belongs to the upper crop of the young talent in the League. His dynamic style of play enables him to finish strong but his shooting touch still has a long way to go. He has averaged 20.6 PPG for the last 5 games.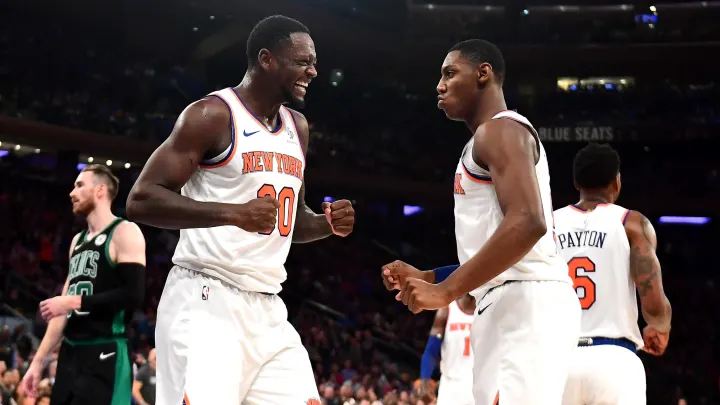 Al Horford
PPG: 14.3
RPG: 6.8
APG: 3.4
TPG: 1.1
PFP: 29
Horford has used his experience and talent to help the Thunder become a challenging team. He is the second option on the offensive end and has produced decently throughout the season. He also provides shooting at the big man position and without Shai in this game, his team will have to rely upon him a lot.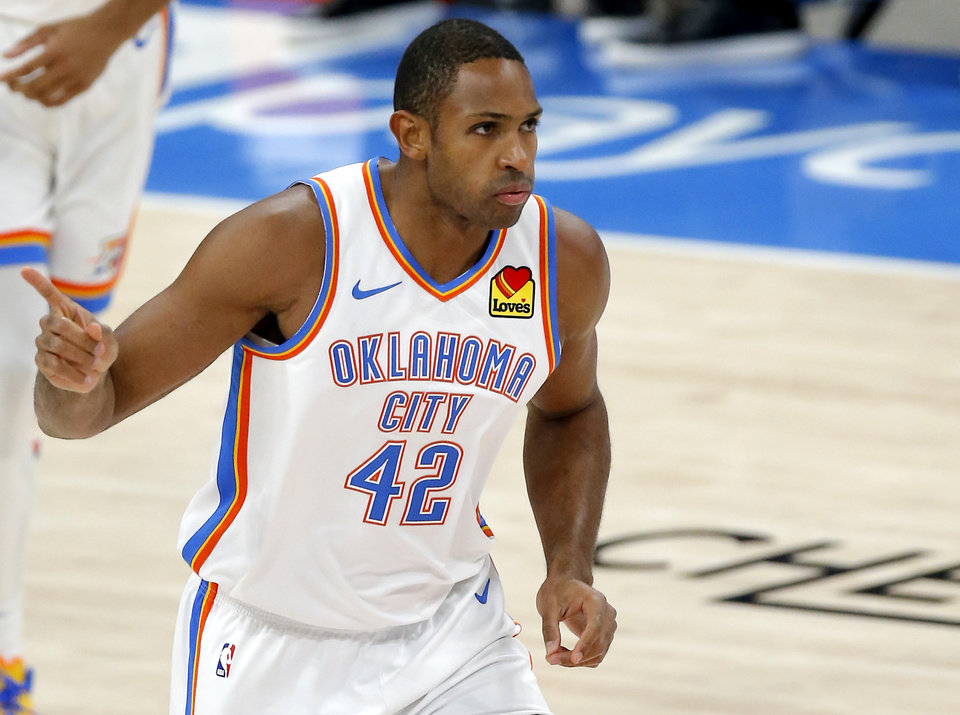 Darius Bazley
PPG: 11.9
RPG: 7.5
TPG: 1.8
PFP: 26
Bazley has given the Thunder a promising outlook at the Forward position. He is in a position to build up a career with a rebuilding franchise and he has taken advantage of the situation so far. He is averaging 12.4 PPG and 9.2 RPG since the last 5 games.
OKC vs NYK Dream11 Sleeper Picks
Elfrid Payton:  PPG: 12.6   RPG: 3.8    APG: 3.7    TPG: 1.8 PFP: 27
Payton has carved out a decent role with the Knicks and has been a dependable option at the guard spot. He touched the 20 points mark in 2 of the last 3 games.
Luguentz Dort:  PPG: 12.4   RPG: 3.5    TPG: 1.5   PFP:21
Dort is an up-and-coming player who has a mature head and can avail the opportunity to develop with a rebuilding team. He provides decent scoring at Forward spot and has been consistently scoring between 10-15 points this season.
Alec Burks:  PPG: 11.3     RPG: 4.3    PFP: 20
Burks can generate offense at the two-guard position and he is a useful player off the bench. His production has been inconsistent but he can have some red-hot nights every now and then.
Reggie Bullock:  PPG: 8.5   RPG: 3.3    PFP: 17
Hamidou Diallo:  PPG: 11.9   RPG: 5.2      SPG: 1.0   PFP: 24
Mike Muscala:  PPG: 9.7    RPG: 3.8    PFP: 20
OKC vs NYK Dream11 Team Prediction
PG: E Payton
SG: R Barrett(PP), H Diallo
SF: R Bullock, L Dort
PF: J Randle(SP)
C:    N Noel, A Horford