KCC vs VG Dream11 Prediction: Koln CC and Vfb Gelsenkirchen lock horns in the Quarter-final 4 of the ECS T10 Krefeld 2021. The Koln CC team won 5 out of 8 league matches, while Gelsenkirchen secured 4 wins in 8 matches.
KCC vs VG Dream11 Team Prediction
Fixture name: Quarter-final 4
Competition: ECS T10 Krefeld 2021
Date: Friday, May 28, 2021
Time: 6:30 PM IST
Team Form Guide:
KCC in Last 5 Matches (recent last): W W NR W W
VG in Last 5 Matches (recent last): L W L L L
Standings (different groups) : KCC 2, VG 3
Ground: Bayer Uerdingen Cricket Ground, Krefeld, Germany
Brief score of the last result at the venue: Dusseldorf Blackcaps 116/5 won by 39 runs against Bonn Blue Stars 77/4 in Match 40 of ECS T10 Krefeld 2021.
Pitch Report: In the last few days, the tournament has seen high scoring grounds, with batsmen being rewarded with their intent. The average score is 95 on this pitch.
WATCH ECS T10 Live score online: Watch ECS T10 Live score and streaming on Fancode.
Today match Prediction Details
KCC Team news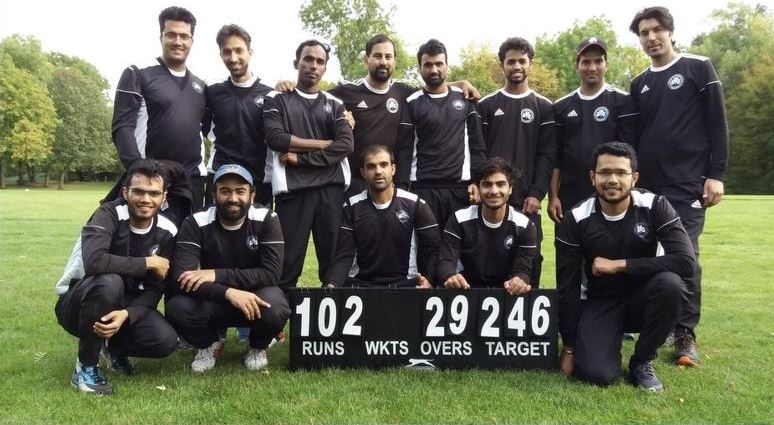 The Koln CC will have a positive frame of mind due to 4 wins in the last 5 league matches.
They were the second best team in their group and will most likely have an upper hand in this match.
Their last 2 league matches involved a rain delay, due to which only 5 overs matches were held.
In the bowling department, Morbagal and Ravishankar will be crucial players.
In the batting unit, Irfan Ahmed and Ameya Deshpande have been impressive.
Injury update, unavailability: None
Expected team changes: The team is excepted to play with the same set of players
KCC Playing 11 (likely)
1. Irfan Ahmed
2. Lokesh Kamti (wk)
3. Tejas Morbagal
4. Dhruv Patel (c)
5. Ameya Deshpande
6. Appu Murali
7. Dhruv Rathod
8. Sandheep Ravishankar
9. Sajeesh Kumar
10. Prateek Dabholkar
11 Santosh Singh
VG Team news
They could win only 4 out of 8 league and will be short on confidence.
The team is coming after a gap of 1 week and they have been average in their last few matches.
In the batting department, Varhade and Jabarkheel are an experienced players and would be keen to maintain their form.
The bowlers like Awasthy and Arfan Malik will form a vital cog of the team.
Injury update, unavailability: None
Expected team changes: The team is excepted to play with the same set of players
VG Playing 11 (likely)
1. Suliman Hugakhil
2. Mirwali Jabarkheel
3. Sahalom Dhaly
4. Arfan Malik
5. Swapnil Varhade (c) (wk)
6. Vignaesh Sankaran
7. Shahidullah Arman
8. Sivasai Yeesakonu
9. Rubesh Palaniappan
10. Kamran Khan
11. Ebnimin Qanee

Who will win today match
The Koln CC is most likely to enter the semifinals after winning this match. The bowlers have been impressive, with the batsmen scoring runs at a right point of time.  On the other hand, the Gelsenkirchen team would have to contribute as a team in the KCC vs VG Today match prediction. The players like Jabarkheel and Dhaly will be important to the team.
Read: KKR Bowler Pat Cummins Backs New Zealand To Beat India In WTC Final
Fantasy Cricket Tips, Captain & Differential Pick
Captain options
I Ahmed- The player who has scored the most runs for the Koln CC team will be critical to the team's success in this match.
I Ahmed in ECS T10 Krefeld 2021- 170 Runs, Bat. AVG. 28.33

T Morbagal- The best performer of the tournament given his contribution in both departments can be a captain pick for your team.
T Morbagal in ECS T10 Krefeld 2021: 12 Wickets, Bowl, AVG. 6.50 and 106 Runs, Bat. AVG. 26.50
Differential pick
S Varhade- The player who has been the consistent run-scorer for the Gelsenkichen team can be the differential pick.
S Varhade in ECS T10 Krefeld 2021- 157 Runs, Bat. AVG. 31.40

KCC vs VG Dream11 prediction
WK:  S Varhade, M Jabarkheel
BAT:   I Ahmed, S Hugakhil, S Dhaly
AR:   T Morbagal, A Deshpande, S Arman
BOWL: S Ravishankar, G Sanghavi, S Awasthi