Rockets vs Timberwolves Fantasy NBA: Houston Rockets will enter the game after losing to the Nuggets despite a 25 points outing by DJ Wilson. On the other hand, the Minnesota Timberwolves will come into the contest after defeating the Jazz in a game where Russell poured 27 points and 12 assists. More information about HOU vs MIN Dream11 will be given here.
Rockets' season: Houston has broken up their roster and will be in the rebuild mode sans the James Harden era. They shipped Victor Oladipo and with their main player in John Wall out for the season, their makeshift roster is dependent upon Christian Wood and other inexperienced or role players. The Rockets are the second-worst team in the Western Conference.
Timberwolves' season: Minnesota has been among the worst teams in the league and it has been the case for many years. First, they didn't utilize Kevin Love well, then Andrew Wiggins, and now Karl Anthony-Towns is also facing many losses which can harm his capabilities in the long run. The Timberwolves did draft a dependable player in Anthony Edwards, but with their track record, it is difficult to say how he will develop and if he will stay in Minnesota long-term.
Host: Houston Rockets
Visitors: Minnesota Timberwolves
Match Timing: 28 April, @06:30 AM
Venue: Toyota Center
Streaming: WATCH Rockets vs Timberwolves NBA Live on Sony channels including Sony TEN 1, Sony TEN 3 and Sony ESPN in India, and SonyLiv App
NBA Projections and Analysis:
Houston Rockets| Minnesota Timberwolves
Games 61 62
Wins: 15 |18
Defeats: 46 |44
Rockets vs Timberwolves, NBA News & Possible NBA Lineups
Houston Rockets team News:
Status Out: Eric Gordon, David Nwaba, DJ Augustin, John Wall, and Dante Exum will be out indefinitely. Sterling Brown won't play in the game.
Status Questionable: Nothing else to report so far.
Houston Rockets active roster: Christian Wood, Avery Bradley, Jae'Sean Tate, Kelly Olynyk, Armoni Brooks, Chris Clemons, Danuel House, Kenyon Martin Jr., Mason Jones, DJ Wilson, Anthony Lamb.
Minnesota Timberwolves team News:
Status out: Malik Beasley will be out for the game.
Status Questionable: Nothing else to report so far.
Minnesota Timberwolves active roster: Josh Okogie, Jake Layman, Malik Beasley, Karl Anthony-Towns, Ricky Rubio, Anthony Edwards, Jaylen Nowell, Naz Reid, Juancho Hernangomez, Ed Davis, Jarred Vanderbilt, D'Angelo Russell, Jarret Culver, Jordan McLaughlin Jaden McDaniels, Ashton Hagans.
HOU vs MIN Dream11 NBA Scores, Fantasy Picks
Karl Anthony Towns
PPG: 24.8
RPG: 10.9
APG: 4.6
BPG: 1.4
TPG: 3.2
Projected Fantasy Points: 45
Towns is not a reliable defender but his offense and rebounding make him an elite Center. Karl has been languishing in a losing team and will like to get to the NBA Playoffs before his prime is over. The Center is averaging 5.2 APG so far this month. He can be chosen as the Super-Player in the Dream11 NBA scene.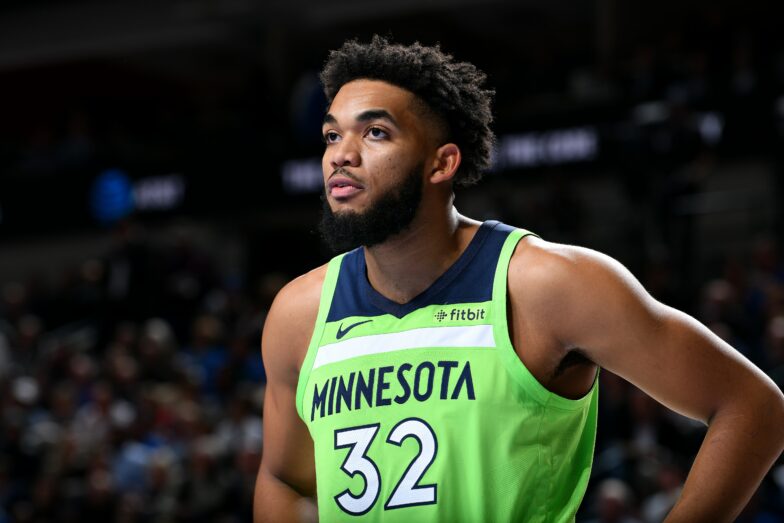 Kelly Olynyk:
PPG: 12.3
RPG: 6.6
SPG: 1.0
TPG: 1.3
PFP: 40
Kelly's role has increased in Houston and so has his minutes. He has found a rhythm with the increased playing time and he is averaging an impressive 17.9 PPG, 7.9 RPG, and 1.1 SPG ever since he has donned the Rockets jersey.
Anthony Edwards:
PPG: 18.3
RPG: 4.4
SPG: 1.2
TPG: 2.1
PFP: 34
The rookie has had a superb campaign and he looks like the Franchise Face along with Towns. While he is still young and needs to improve his shooting, he has all the potential in the world to become an effective player in this league. He is averaging 22.1 PPG and 1.7 SPG this month so far.
Christian Wood
PPG: 21.0
RPG: 9.5
BPG: 1.2
TPG: 1.9
PFP: 39
Wood has had a breakout season but his exploits have gone unnoticed because of the state of the roster and a large number of trades. He got injured around midseason but has averaged 19 PPG and 8.5 RPG ever since he has come from the injury.
HOU vs MIN Dream11 Sleeper Picks
D'Angelo Russell:  PPG: 19.3   APG: 4.9    SPG: 1.0   TPG: 2.7     PFP: 40
The shifty left-handed guard is coming off the bench for the Wolves after the injury and has lodged some impressive outings this month. He is averaging 19.4 PPG since his return from injury.
Kevin Porter Jr.:  PPG: 15.5    APG: 6.2     RPG: 3.8       SPG: 1.1      TPG: 3.4
PFP: 32
Porter Jr. has been a revelation amidst a chaotic season for the Rockets and he will see more minutes with Wall out for the season. The guard's ability to score and assist makes him a piece for the future and despite having some rough edges, he is a terrific talent at 20 years of age.
Ricky Rubio:   PPG: 8.3       APG: 6.6       RPG: 3.2      SPG: 1.4     TPG: 1.8
PFP: 24
While Rubio is not the same player as he was in the previous years, but still is a decent contributor, scoring and playmaking. He is averaging 1.5 SPG this month so far.
Naz Reid:  PPG: 11.1    RPG: 4.6    BPG: 1.1   TPG: 1.0     PFP: 26
Jae'Sean Tate:   PPG: 11.0     RPG: 5.3    SPG: 1.3   PFP: 22
PG: D Russell
SG: K M Jr.
SF: A Edwards, KP Jr.
PF: D Wilson, J Tate
C:  K Towns(SP), C Wood(PP)