The comparison between Indian and Pakistan players has been common among fans and former cricketers of both countries. The Indian captain Virat Kohli has often been in the limelight for his performances in the international circuit. Initially, the Pakistan opener Ahmed Shehzad was compared to Virat Kohli due to his uncanny resemblance. In fact, Shehzad was quite successful in his first 13 tests, where he scored 982 runs, while Kohli scored 788 runs in the same amount of matches. But, Shezad's form dropped and Virat improved his consistency and has been a consistent performer across all the formats for the Indian team. Now the Pakistan captain Babar Azam has been compared to the Indian captain.
Aqib Javed – Virat can improve his technique by looking at Babar
The former Pakistan fast bowler has started Babar Azam's comparison with Virat Kohli once again. The Pakistan captain Babar has been the most consistent player for the team for the past few years. Due to his consistent performances in the international circuit as well as the PSL, he was made the captain of the Pakistan limited-overs side. In an interview to Cricket Pakistan, he has found fault in Kohli's batting and lauds Babar Azam.
"Virat Kohli has a better range as compared to Babar Azam but he also has one area of weakness. If the ball swings, he tends to get trapped around the off-stump such as against Anderson in England," Javed told Cricket Pakistan.
"When you look at Babar, you don't see any weak areas. Just like, Tendulkar who also didn't have any weak areas. Babar is technically more safe and sound but if he follows Kohli's fitness routine he will become an even better player. Meanwhile, Kohli can improve his technique by looking at Babar so that he doesn't get trapped." Javed added.
The fans were quick to troll the former fast bowler on Twitter.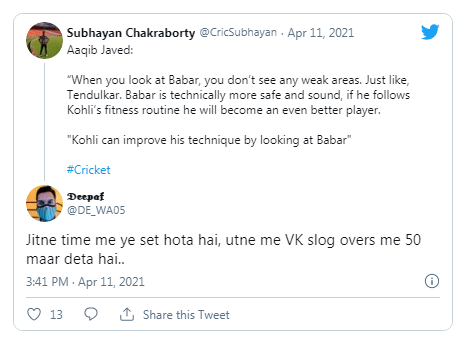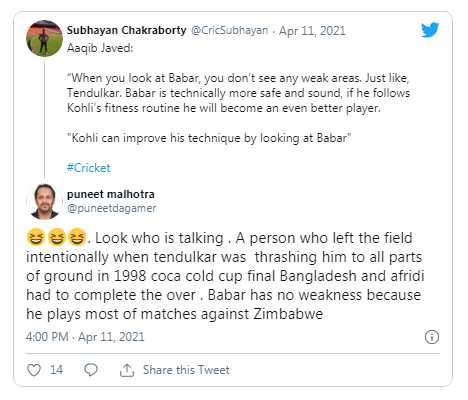 Babar Azam vs Virat Kohli in ODIs
Both the batsmen have been super consistent in the ODI format and have been the strength in the middle-order for the past few years. In 254 matches, Kohli has scored 12169 runs at an average of 59.07, while Azam has amassed 3808 runs in 80 matches at an average of 56.83. Although he has much less experience in international cricket, he is currently the best Pakistan batsman. Recently, in an ODI series against South Africa, he scored 94 off 82 balls and climbed to the 1st position in the ODI batsmen rankings.
For more cricket news, click here