UTA vs HOU Dream11 Team Prediction NBA Projections, Fantasy Basketball Picks for Jazz vs Rockets 13 March
Jazz vs Rockets Fantasy NBA: Utah Jazz will play their first game after the All-Star Break and before the break, they were the best team in the league in terms of wins. Meanwhile, the Houston Rockets will hit the floor after losing to Sacramento Kings despite a 23 points outing by Victor Oladipo. More information about UTA vs HOU Dream11 NBA will be given here.
Jazz's season: Utah Jazz has clicked on both sides of the floor and has become the toughest team to beat this season. They have a defensive stalwart in Rudy Gobert and an offensive phenomenon in Donovan Mitchell, who is surrounded by a cast of shooters and players who can play decent defense consistently.
Rockets' season: Houston has struggled this season especially after the departure of James Harden. While John Wall has done his utmost to carry the load, the team simply lacks the depth to be a winning squad. They are bracketed at the bottom of the NBA Standings for Western Conference and will likely remain there unless some transformation takes place.
Host: Utah Jazz
Visitors: Houston Rockets
Match Timing: 13 March, @ 08:30 AM
Venue: Vivint Smart Home Arena
Streaming: WATCH Jazz vs Rockets NBA Live on Sony channels including Sony TEN 1, Sony TEN 3 and Sony ESPN in India, and SonyLiv App.
NBA Projections and Analysis:
Utah Jazz| Houston Rockets
Games: 36| 35
Wins: 27| 11
Defeats: 09 | 24
Jazz vs Rockets, NBA News & Possible NBA Lineups
Utah Jazz team News:
Status Out: Udoka Azubuike will be out till 15 March.
Status Questionable: Nothin further to report on the injury front so far
Utah Jazz active roster: Donovan Mitchell, Mike Conley, Bojan Bogdanovic, Rudy Gobert, Miye Oni, Joe Ingles, Royce O' Neale, Jordan Clarkson, Jarrell Brantley, Nigel Williams-Goss Trent Forest, Elijah Hughes, Georges Niang.
Houston Rockets team News:
Status Out: David Nwaba, Christian Wood, and Dante Exum will be out indefinitely
Status Questionable: John Wall and Danuel House are questionable for the game.
Houston Rockets active roster: John Wall, Victor Oladipo, Jae'Sean Tate, Chris Clemons, Danuel House, Kenyon Martin Jr., Mason Jones, Sterling Brown, Bruno Caboclo.
UTA vs HOU Dream11 NBA Scores, Fantasy Picks:
Donovan Mitchell
PPG: 24.7
APG: 5.4
RPG: 4.7
SPG: 1.0
TPG: 3.0
PFP: 44
Mitchell is the offensive leader of the Jazz and his production is one of the main reasons why they are at the peak of the NBA rankings. Mitchell has become a terrific scorer and he can score in multiple ways. He has eclipsed the 30 points mark in 3 of the last 5 games. He is a terrific selection as the Super-Player in the Dream11 NBA.
Rudy Gobert
PPG: 14.2
RPG: 13.2
BPG: 2.7
TPG: 1.7
PFP: 40
Rudy is a terror to score against in the paint, and apart from defense, he also supplements high-quality scoring and rebounding, which makes him a complete package at his position. Despite his rugged defense, the big man only averages 2.3 Personal Fouls per game which indicates his discipline on that end.
John Wall
PPG: 21.0
APG: 6.0
RPG: 3.2
TPG: 3.3
PFP: 38
John Wall has an admirable job for the Rockets despite a prolonged absence from basketball action due to an injury. He is their primary playmaker and is well equipped to drive at the rim or open up opportunities for his teammates. Wall is questionable for the game but the Rockets need him to play to be competitive.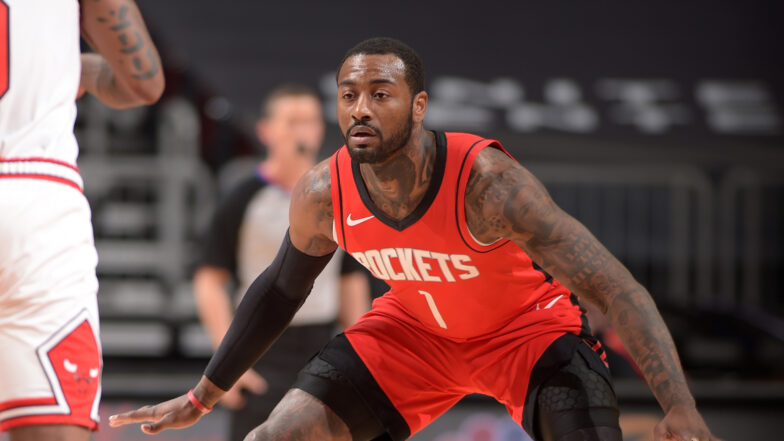 Victor Oladipo
PPG: 20.0
RPG: 5.2
APG: 4.5
SPG: 1.5
TPG: 2.2
PFP: 38
The Pacers traded Oladipo to the Rockets in the James Harden transaction and despite jostling with injuries all season, he remains a scoring threat. He is averaging 26.5 PPG and 2.5 SPG since the last 3 games.
UTA vs HOU Dream11 Sleeper Picks
Mike Conley:  PPG: 16.1   APG: 5.7    RPG: 3.5  SPG: 1.4 PFP: 30
Conley is an experienced two-way player for the Jazz and he has given them immense talent at the position. He has notched impressive numbers and is a reliable option as a playmaker, scorer, and defender.
Eric Gordon: PPG: 17.8  TPG: 1.9 PFP: 24
Gordon continues to be a serviceable player at the offensive end and has stitched together another impressive season.
Jordan Clarkson: PPG: 17.9  RPG: 4.0  TPG: 1.7   PFP: 27
Clarkson produces instant offense off the bench and he is well versed at breaking down defenses with his dribbling and shooting. He has helped the Jazz at providing depth and he has enabled them to become one of the deepest teams at the Guard position.
Joe Ingles: PPG: 11.5   APG: 4.4   RPG: 3.3    PFP: 23
Jae'Sean Tate:  PPG: 9.9   RPG: 5.3  PFP: 19
Bojan Bogdanovic: PPG: 15.7    RPG: 3.9      PFP: 22
UTA vs HOU Dream11 Team Prediction
PG: M Conley, S Brown
SG: D Mitchell(SP), J Tate
SF: B Bogdanovic, E Gordon
PF: R O'Neale
C:    R Gobert(PP)