R Ashwin IPL: The increasing scare of Covid-19 has affected the ongoing Indian Premier League. After a couple of overseas players left the IPL 2021 to return home, R Ashwin has become the first Indian cricketer to withdraw from IPL 2021 due to Covid-19.
R Ashwin withdraws from IPL 2021
The Delhi Capitals player announced his decision on Twitter. He said in a tweet that he would be taking a break from this years IPL from tomorrow.
Ashwin stated that his family and extended family are putting up a fight against #COVID19 and he wants to support them during these tough times.
The off-spinner however, hasn't closed all doors. He also noted that he expects to return to play if things go in the right direction. Ashwin also thanked his franchise Delhi Capitals.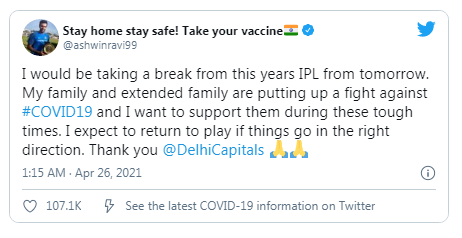 Delhi Capitals have acknowledged Ashwin's decision. The franchise updated the fans with Ashwin's decision and stated that they extend him their full support.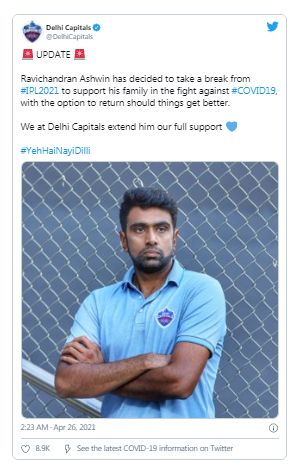 Other Indian cricketers to follow Ashwin?
According to a cricket news portal, two Aussie cricketers have told their franchise that they wish to return to their home. The situation in Australia is worsening and there could be tough travel regulations in the coming days. Hence, the Aussie cricketers are thinking about returning home.
So far, there has been no official news about any other Indian cricketer withdrawing from IPL due to Covid-19. However, if the situation continues to be as grim as it is for now, more cricketers could join Ashwin.
Also read: Jadeja's Finger Gun Celebration After Running-Out Dan Christian