MI vs RCB IPL 2021 Stats, Batting, Bowling, Team Records, Fantasy Cricket Dream11 Prediction Tips
RCB vs MI IPL Stats: Every emerging cricket player wants to play in the Indian Premier League is not a news to fans anymore. The quality of cricket in this marquee league is in an elite territory. IPL has passed its initial years now and it is an established competition. As a result of that, cricket fans can connect to their respective favourite teams year after year. Competitive cricket and crazy fan-following ignite the light of traditional rivalry between two well equipped sides.
MI vs RCB IPL 2021 Stats
We are going to analyze one of the modern day rivalries in the IPL – MI vs RCB. Even before the beginning of the league, two teams of Mumbai and Karnataka were used to be fierce competitors in the Ranji trophy over the years. Many believe that IPL rivalry is just an extension of that old history between both the regions. Both teams have locked horns against each other in a total of 27 matches till date. Mumbai Indians have been ruthless with 17 wins while on 10 occasions, Royal Challengers Bangalore have become triumphant.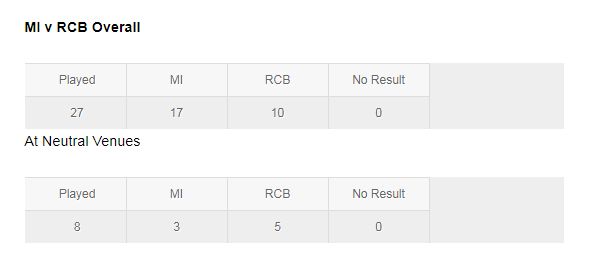 ---
MI vs RCB IPL 2020 Match Results
During the last year's IPL in UAE, both these teams gave us a couple of enthralling contests. In the first game at Dubai, Royal Challengers Bangalore put on a formidable 201 batting first in MI vs RCB live score. Both the openers Devdutt Padikkal and Aaron Finch laid a solid platform for the middle order with respective half-centuries. AB de Villiers put on finishing touches with a cracking 55* from just 24 balls. In reply, Ishan Kishan and Kieron Pollard made a match out of nowhere for Mumbai with an astonishing partnership. Former made 99 while latter remained unbeaten on 60 as the match ended in a tie. RCB won the one over eliminator with impressive bowling display from Navdeep Saini.
In the second fixture at Abu Dhabi, RCB again had to set a target for Mumbai Indians. Devdutt Padikkal almost single-handedly carried their innings with an innings of 74 runs as others failed to put any significant scores on the board. As a result, RCB ended up with 164 runs from their 20 overs in RCB vs MI 2020 match. Jasprit Bumrah picked up 3 crucial scalps for MI. In reply, it was turned out to be an easy job for Mumbai thanks to a blistering knock from Suryakumar Yadav. He remained unbeaten on 79 runs as Mumbai chased down the score in the last over with 5 wickets to spare.
---
MI batting stats vs Royal Challengers Bangalore
Now, let's discuss about individual performances during the match-up between Mumbai Indians and Royal Challengers Bangalore, starting with top batsmen for Mumbai. So, veteran Kieron Pollard is marginally ahead of Rohit Sharma when it comes to top run-scorers against RCB. Kieron Pollard has 539 runs from 24 innings while Rohit Sharma has 478 runs from 18 innings. Hardik Pandya and Suryakumar Yadav complete the list with 217 and 179 runs respectively. Hardik Pandya has been the stand-out player with average and strike-rate of 54.25 and 165.65 respectively.
In home conditions, Rohit Sharma has been particularly dominant with 324 runs in 8 innings at an average of 54. Kieron Pollard is second in the list with 208 runs in the same number of innings. If we talk about matches at Chinnaswamy, then Ambati Rayudu has the most runs while playing for Mumbai Indians. He has scored 252 runs from 6 innings while Kieron Pollard has hit 205 runs from 8 innings at the home venue of RCB.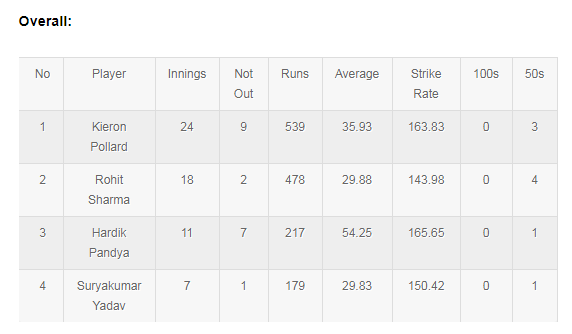 ---
MI bowling stats vs Royal Challengers Bangalore
Mumbai Indians bowling lineup can easily be termed as arguably the best in the competition with the likes of Jasprit Bumrah and Trent Boult being extremely effective at any stage of the T20 innings. Jasprit Bumrah has been the most successful bowler against Royal challengers Bangalore with 19 wickets from 15 innings. Kieron Pollard is second active player on the list with 12 wickets from 15 innings. Mitch McClenaghan and Krunal Pandya have taken 11 and 9 wickets respectively against RCB.  Jasprit Bumrah has the best average of 23.05 against RCB from the list.
Jasprit Bumrah has 8 scalps while playing at Wankhede and Krunal Pandya has contributed with 7 wickets in home games. Jasprit Bumrah takes the cake in away and neutral matches against RCB. Pandya brothers – Krunal and Hardik have also seemed to be raising their games when they play against RCB side.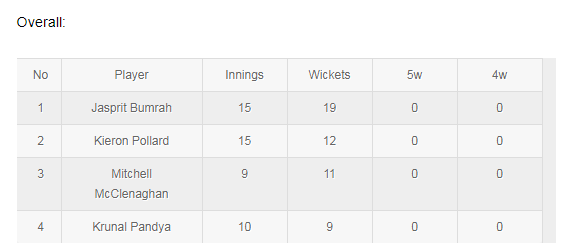 ---
RCB batting stats vs Mumbai Indians
Virat Kohli and AB de Villiers have been the mainstays of RCB batting lineup over the years. And it is no surprise that both are at the top of the table when it is the question of performing against Mumbai Indians. Virat Kohli has slammed 695 runs from 28 innings while AB de Villiers has accumulated a total of 634 runs from just 17 innings. They are followed by Chris Gayle and Devdutt Padikkal from the current set of players with 380 and 128 runs in order. AB de Villiers has been top-notch against MI with an average of 52.83 and a strike-rate of 151.67.
AB de Villiers has been particularly impressive at neutral venues while Virat Kohli dominates the home and away tables. Having said that, AB de Villiers is having better average and strike-rate than Virat Kohli in all the conditions. Fans would be having vivid memories of various record-breaking partnerships of these two against Mumbai, especially their Wankhede master-class back in the 2015 edition.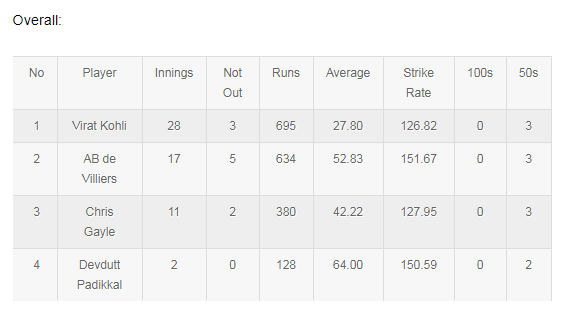 ---
RCB bowling stats vs Mumbai Indians
There is reason why Royal Challengers Bangalore have struggled against Mumbai Indians even after such heroics from their batsmen and the reason is obvious – their bowling. Bowling department has always been Achilles' heel for RCB in the IPL over the years and it is reflecting in the top wicket-takers' list against MI as well.
Yuzvendra Chahal is at the top of the tree with 19 wickets from 13 innings. But the difference between first and second is a formidable one with Mohammed Siraj taking only 7 wickets. Harshal Patel and Umesh Yadav are at following positions with 6 wickets each. Yuzvendra Chahal has been particularly impressive at the neutral venues with 13 scalps from 8 innings. These matches are mostly the play-off matches which are organized at neutral stadiums and matches in UAE. There is nothing much to analyze from these stats apart from the fact that Yuzvendra Chahal is topping almost every chart for Royal Challengers Bangalore against Mumbai Indians.