IPL 2021: Yuvraj Singh baffled with AB de Villiers batting at No. 5 against MI, Virat Kohli clarifies
De Villiers scored 48 off 27 balls with four fours and two sixes before getting run out.
Yuvraj Singh, the former Indian batsman, was surprised with AB de Villiers' batting position in the Indian Premier League (IPL) 2021 opener between Mumbai Indians (MI) and Royal Challengers Bangalore (RCB). On Friday at the Chepauk, De Villiers batted at five and took the Challengers to a two-wicket victory by scoring 48 off 27 balls with four fours and two sixes.
With RCB needing two runs off as many balls, he got run out at the striker's end after sharp pieces of work from Krunal Pandya and Ishan Kishan. Though the Challengers came out trumps, Yuvraj believed that being their "best batsman", De Villiers should have been slotted at three or four.
Yuvraj took to Twitter and wrote, "Don't understand @ABdeVilliers17 batting at no 5 !!? our best batsmen after opening have to come at no 3 or no 4 in t20 just an opinion."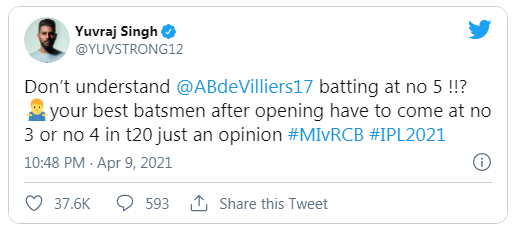 Virat Kohli explains why AB de Villiers batted lower down the order
On the same, Virat Kohli, the RCB skipper, stated that keeping in mind his versatility and his fear among oppositions, De Villiers was sent lower down the batting order. "The opposition gets nervous about AB. We have depth in the batting which we want to utilise.
"AB is probably the only player who's so versatile and can do what he did on slow pitches today, so we have to understand. If there's a partnership on, you might see a totally different order. But in a tricky chase, you want some options in the back end, where the opposition thinks it's not over till he gets out," Kohli stated.
After a disastrous outing in the IPL 2020, Glenn Maxwell made his debut for RCB and he didn't flatter to deceive. The Victorian managed a 28-ball 39 before becoming Marco Jansen's maiden IPL victim. Kohli lauded him for injecting impetus into the innings at a crucial stage.
"The thinking was that we wanted to give Maxi some balls at the start and not get him slogging right away. You saw the result today of him playing 10-15 balls. His inning was the game-changer. Had he stayed in we would've finished a couple of overs earlier," he added.
RCB's second match is against Sunrisers Hyderabad (SRH) on Wednesday, April 14 at the Chepauk itself.