Nuggets vs Knicks Fantasy NBA: The Denver Nuggets will enter the game after losing to the Lakers despite a 32 points outburst by Nikola Jokic. On the other hand, the New York Knicks beat the Grizzlies rallying around a 28 points outing by Julius Randle. More information about DEN vs NYK Dream11 will be given here.
Nuggets' season: Denver Nuggets lost Jamal Murray a few weeks ago due to an injury, but Michael Porter has become a major enforcer on the offensive end, filling Murray's void to a substantial level. The play of Jokic has been commendable but the team also has some amazing players in Will Barton, Aaron Gordon, and Monte Morris. Nuggets are the 4th best team in the Western Conference and will be a formidable foe for any team during the Playoffs.
Knicks' season: Expectations were low on Knicks for this season but the young squad has risen up in face of a premier season by Julius Randle and the growth of RJ Barrett. Derrick Rose has been a premier option off the bench and the tenacity of Knicks has given hiccups to even many well-built rosters too. Knicks have won 9 out of the last 10 games and are located at the 4th position in the NBA Standings for Eastern Conference.
Host: Denver Nuggets
Visitors: New York Knicks
Match Timing: 6 May, @ 06:30 AM
Venue: Ball Center
Streaming: WATCH Nuggets vs Knicks NBA Live on Sony channels including Sony TEN 1, Sony TEN 3 and Sony ESPN in India, and SonyLiv App.
NBA Projections and Analysis:
Denver Nuggets| New York Knicks
Games: 65| 65
Wins: 43| 37
Defeats: 22| 28
Nuggets vs Knicks, NBA News & Possible NBA Lineups
Denver Nuggets team News:
Status Out: Monte Morris, PJ Dozier, Jamal Murray, and Will Barton will not play in the game.
Status Questionable: Nikola Jokic and Zeke Nnaji are "Game Time Decisions".
Denver Nuggets active roster: Nikola Jokic, Facundo Campazzo, Michael Porter Jr., JaVale McGee, Aaron Gordon, Austin Rivers, Paul Millsap, Shaquille Harrison, Vlatko Cancar, Markus Howard, JaMychal Green, Gary Clarke, Zeke Nnaji, Bol Bol.
New York Knicks team News:
Status Out: Mitchell Robinson will not play in the fixture against the Thunder.
Status Questionable: Norvel Pelle and Nerlens Noel are "Game-Time Decisions".
New York Knicks active roster: Julius Randle, Immanuel Quickley, RJ Barrett, Kevin Knox II, Elfrid Payton., Nerlens Noel, Taj Gibson, Reggie Bullock, Austin Rivers, Derrick Rose, Alec Burks, Frank Ntilikina, Jared Harper, Theo Pinson, Obi Toppin, Norvel Pelle.
DEN vs NYK Dream11 NBA Scores, Fantasy Picks
Nikola Jokic
PPG: 26.3
RPG: 10.9
APG: 8.5
SPG: 1.4
TPG: 3.1
PFP(Projected Fantasy Points): 49
Jokic has had a record-breaking season and he is the engine that keeps the Nuggets ticking. His all-around offensive abilities allow him to be one of the most potent weapons and he is surely having an MVP-like campaign. He has crossed the 30 points mark thrice in the last 5 games. Jokic is an excellent pick-up as the Super Player in the Dream11 NBA scenario but is also "questionable" for the game.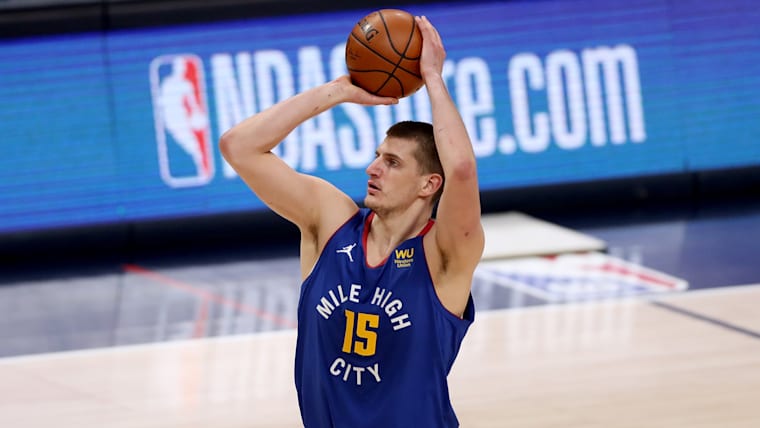 Julius Randle
PPG: 23.6
RPG: 10.3
APG: 5.9
TPG: 3.4
PFP: 47
Randle has had a breakout season and said recently that he deserves to be in the MVP talk. His performances have been indeed spectacular and he does have had a huge impact on the improved fortunes of the Knicks. He leads the Knicks in PPG, RPG, and APG, indicating what an incredible all-around player he has become. He is averaging 28.4 PPG for the last 5 games, crossing 30 points mark thrice in the period.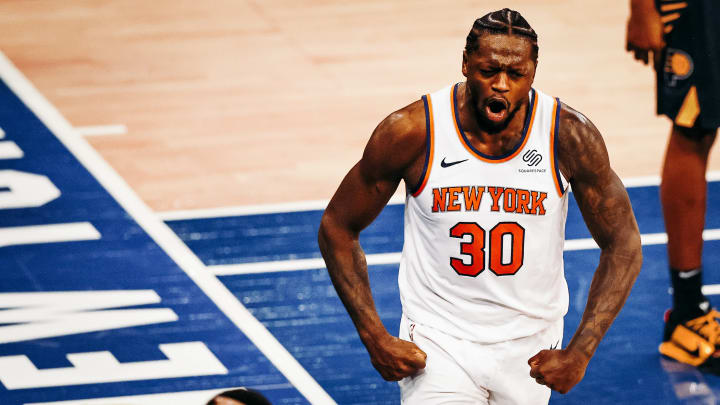 RJ Barrett
PPG: 17.6
RPG: 5.8
APG: 3.0
TPG: 2.0
PFP: 39
RJ is a superb talent at the age of 20 and has a long time to hone up his skills. He has been stellar at the professional level and has shown that he belongs to the upper crop of the young talent in the League. His dynamic style of play enables him to finish strong but his shooting touch still has a long way to go.
Michael Porter Jr.:
PPG: 18.9
RPG: 7.5
BPG: 1.0
TPG: 1.2
PFP: 43
Porter's early career has been dampened by injuries but he has now proven that he has the potential to become an elite SF. He has been on a tear since the year began, and has even lead Nuggets in points during some games. He is averaging 25.2 PPG for the last 5 games.
DEN vs NYK Dream11 Sleeper Picks
Aaron Gordon(Since joining Nuggets): PPG: 10.5     RPG: 4.8      TPG: 1.3
PFP: 20
Gordon's scoring isn't at a premium since coming to Denver but he is still adjusting to the system. The Forward has given them depth so the Nuggets will still savor the production he is generating right now.
Derrick Rose(Since joining Knicks): PPG: 14.3       APG: 4.1      TPG: 1.2
PFP: 36
The former MVP has become a significant contributor for the Knicks and recent victories are also a result of him producing 20+ points nights. He has cleared the 20 points to mark thrice out of the last 5 games.
Alec Burks:   PPG: 12.5     RPG: 4.4      TPG: 1.0     PFP: 23
Burks has been constant at providing offense for his squad and is an ominous threat off the bench.
JaMychal Green:  PPG: 8.2      RPG: 4.9      PFP: 15
Elfrid Payton:  PPG: 11.1     RPG: 3.5     APG: 3.4      TPG: 1.7   PFP: 20
PG: D Rose, F Campazzo
SG: S Harrison
SF: R Bullock, M Porter Jr.
PF: J Randle(PP)
C:   N Jokic(SP), J Green